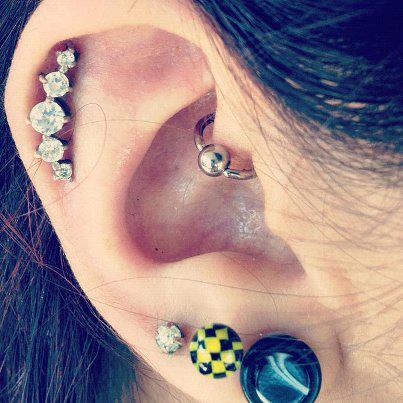 The word, daith derives from the Hebrew and it means intelligence. A piercing that passes through the ear's innermost cartilage fold, it is considered in Hindu folklore to be a symbolic filter of all that is false and nonsensical.
Created in 1992, this ear piercing requires a highly advanced technique and a specially curved needle. In the end, the bottom part of the ring must appear to come directly out of the ear canal. If you can see both the entrance and exit hole of the ring, it has not been done correctly. There must be enough room to insert a bar or a ring, and usually wearers prefer jewelry with small gauges that can be easily inserted.
The jewelry size and gauge selected will depend on the thickness of the cartilage. Whether the preference is for a captive bead ring, circular barbells, smooth segment rings or a curved bar, choices are manifold, each one available in many material options. These are all easily accessorized with either clip-in or threaded body jewelry accessories.
The healing time is typically 3 to 6 months, a bit longer than most cartilage piercings. This is because the nature of the piercing usually causes complications. The best way to promote quick healing is to clean it after you use the phone or have any other contact with it. Steer clear of perfumes, hair products, and other irritants until it is healed.
This unique piercing requires quite a bit of maintenance but it is definitely worth it in the end, as it looks amazing!