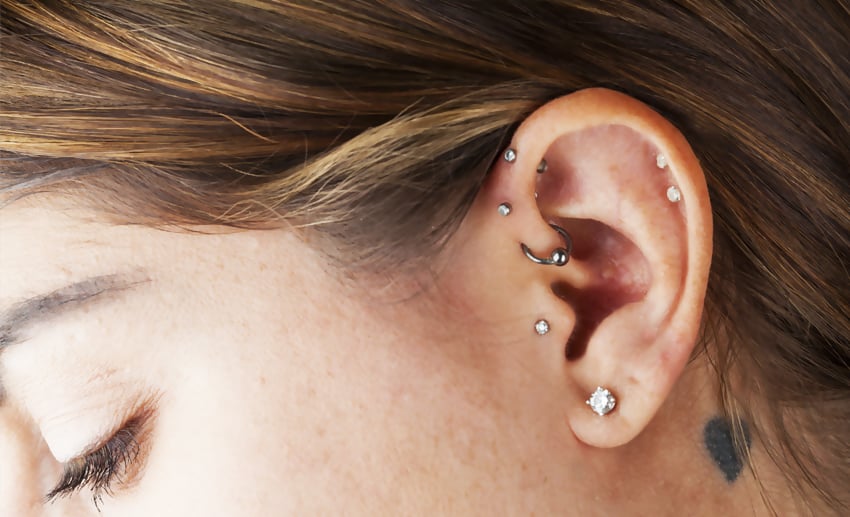 Cartilage piercings are definitely in vogue. With so many piercing locations, you can choose which ones suit your style, and since cartilage piercings are usually accepted in professional settings, you don't have to worry about hiding them from your boss or conservative relatives.
Part of what makes cartilage piercings so great is the endless piercing combinations that you can take on. But that's what also makes it an overwhelming undertaking. When you get your cartilage pierced, you could go by whimsy and spontaneously go for whatever piercing you feel like getting, but we recommend making a plan.
Whether you prefer one or two teeny studs, or you're looking to bling it up, here are some cartilage piercing styles to inspire you.
Petite hoops in an organized line
Stack your lobe piercings, auricle piercings, and helix piercings for a sleek, organized look. With petite hoops, this style is a perfect combination of neat and edgy.
Shop for this look
Lots of lobe
A row of lobe piercings traveling up the ear can be a fun option that you can dress up with a variety of hoops and dangles, as seen above, or that can be toned down with cute studs. The lobe offers a great piercing canvas, so have some fun!
Emulate her look:
Keep it simple, yet unique
Just because you want a unique piercing cluster doesn't mean that you have to go all out. Here, we see a triple tragus piercing with three small but super adorable studs. The [unique] piercing placement catches the eye without having to go over-the-top with jewelry.
Emulate her look:
Draw attention to the daith
We love the daith piercing. The position of the piercing allows you to showcase gorgeous hoops in an interesting way. This Instagram user knows that the daith can shine on its own, and adorned her tragus, helix, and lobe piercings with cute but subtle studs to act as an accent without overshadowing the daith.
Emulate her look:
Don't stop at the lobe
Cartilage piercings can be used to accentuate the body's natural look and shape. Here, we see a simple line of studs going all the way up the ear. It's super simple, yet the unique design makes this look pop! Bonus: with so many piercings to play with, you can rock a new look every day.
Emulate her look:
Go all out
They say less is more, but sometimes more is more! Decorating your ear with tons of jewelry of the same color allows you to rock all of the piercing styles while still looking uniform.
Emulate her look:
No matter your style, there's a cartilage collection that's right for you! Be sure to shop the rest of our 14k gold cartilage earrings and start dreaming of your new look!