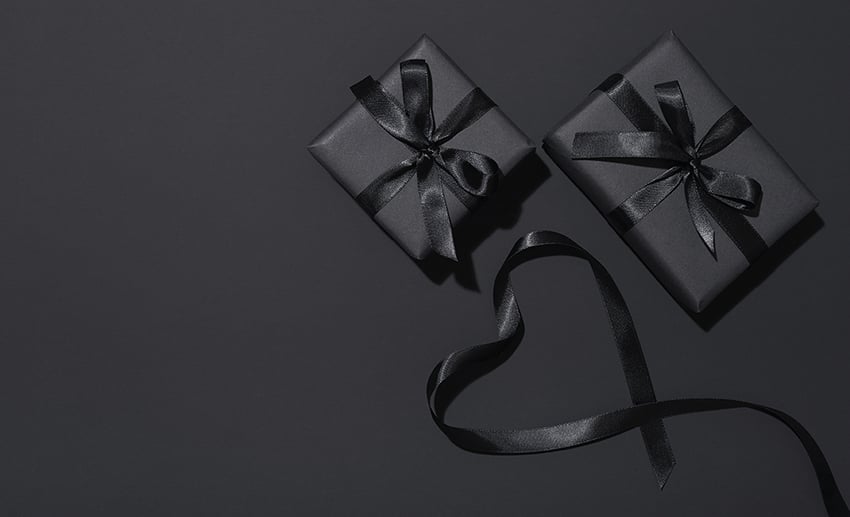 Every Thanksgiving evening, hoards march from their dinner tables, limiting their precious family time, to stand in cold lines awaiting Black Friday. The draw? Unbelievable bargains on tons of merchandise. As this unofficial holiday has gained popularity, we see more and more stories of violence breaking out in the name of a great deal.
Here at FreshTrends, we believe that you should get access to those amazing deals without having to leave the comfort of your home. And so, we are very excited to invite you to join us for our amazing Black Friday 2018 sales!
Pop online at midnight when we will offer 50% off all fashion jewelry (with coupon code BLKFRI18), 20% off our 14K gold and platinum jewelry (with coupon code LUXE20), and free shipping on orders over $30.
This is an event that you won't want to miss. Some supplies are limited, so set your alarm, pull out your laptop, and take advantage of these deals from your warm bed.
We also understand that Thanksgiving week can be busy. If you can't join us on Black Friday, we will be offering 90% off a bunch of different styles and 60% off fashion jewelry (with coupon code CYBER18), 25% off of our fine jewelry (with coupon code FINE25), and free shipping on purchases of $30 or more (with coupon code CYBER18) starting at midnight. Be sure to start shopping ASAP; supplies will not last!
In honor of our exclusive Black Friday 2018 sale, we've put together a list of reasons why you should avoid Black Friday crowds and shop online this year (as if shopping from your bed isn't reason enough).
You could be arguing with with line-cutters
In the beginning, Black Friday was simply a day when shoppers who were on top of their holiday shopping were rewarded with sales and other deals. Now it's grown into a feeding frenzy of shoppers who camp for hours in order to be the first ones through the shop doors. This spirit of urgency leads to cranky, impatient shoppers keen to bite your head off if they even suspect that you've cut in on their territory. Yikes.
You should be eating apple pie while browsing septum rings
After your Thanksgiving feast has been eaten and the holiday season has officially begun, you want the peace and comfort worthy of a Thomas Kinkade painting over the Game of Thrones bloodbath that is Black Friday. By shopping online, you can indulge in amazing deals while maintaining the true holiday spirit.
At midnight this Black Friday, sneak an extra slice of leftover apple pie from the fridge, shuffle to your computer, and peacefully browse some of these adorable septum rings.
You could be playing tug-of-war with a new TV that you don't need
A major point of Black Friday sales is that you can get electronics at a ridiculously low price. The catch? Only a handful of items are offered at the low rate. This results in mass hysteria surrounding the last flat screen as five different people dig their fingernails into the box and swear on their lives that they were there first as holiday music mockingly plays over store speakers. So much for goodwill for all.
You should be listening to holiday tunes while picking out cartilage earrings
Once the Thanksgiving dishes have been put away, the holiday season has officially begun. Instead of celebrating with holiday music weakly playing over desperate mobs, you could be at home, in your PJs, happily listening to your favorite holiday songs while looking at these super cute cartilage earrings.
You could be getting trampled by an impatient mob
After waiting in line for hours, once those shop doors open, shoppers are understandably ready to get their frozen selves inside. In their impatience, what should be a civilized herding into the store turns into a massive rush, which has even led to tragedy. Not very Christmasy.
You should be sipping on spiked eggnog while choosing your holiday looks
While everyone else has been freezing in line for the past four hours, you'll be cozy in your robe, sitting at your computer, sipping on the season's first egg nog. As the sweet treat warms your belly, you can feel great knowing that you aren't participating in the madness, but you're still getting these super cute pieces of holiday body jewelry for super cheap.
You could be arguing with your best friend about your store strategy
A big part of Black Friday shopping is strategizing which stores to hit up for the optimal bargains. A poor strategy could mean the difference between going home with a large haul and sadly sifting through bins of junk that aren't even worth their $1.00 price tag. With such high stakes, disagreement over store mapping can lead to arguments that a day at the mall with your bestie should never bring up.
You should be buying your best friend a new belly ring
When you do your shopping sitting at a computer, you avoid this issue altogether. Technology allows us to open multiple tabs so that you can conduct your shopping at five stores at once. You and your BFF can sit side by side, sipping on wine, singing Mariah Carey's Christmas songs, and celebrating your fantastic finds. As you enjoy your relaxed Black Friday shopping night, check out some of these adorable belly rings on the sly for your favorite friend's Christmas gift.
The entire world is going digital, so why are we still putting ourselves through the ordeal of Black Friday mobbing? Step into the future (and your pajamas) and stay online this Black Friday.