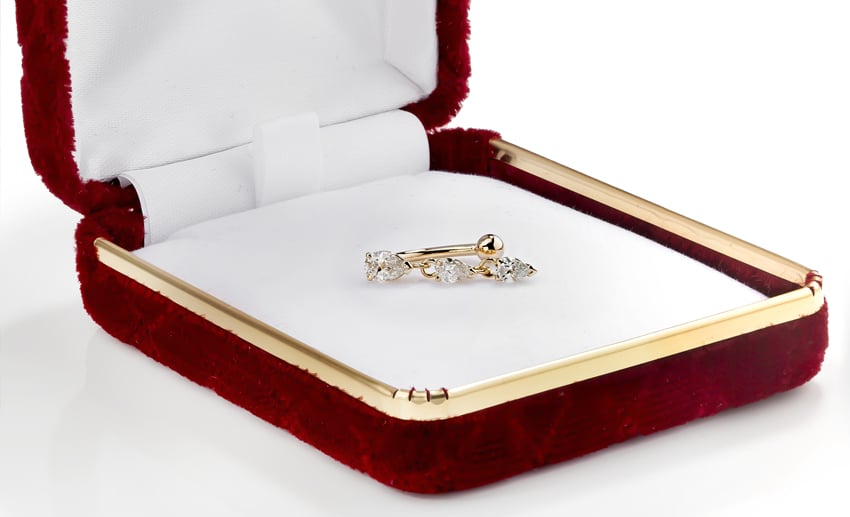 If you've been out and about recently, you may have noticed that holiday music and decorations have already made their debut in many stores. This can only mean one thing: the holiday shopping season is upon us.
Jewelry offers a tried-and-true option to make your loved one smile this holiday season. Instead of sticking with traditional options like rings and necklaces, why not give your pierced pals some new body jewelry that they can enjoy? (Or, if you have piercings, you can send this along to your loved ones as a nudge in the right direction.)
Whether or not you're pierced, buying body jewelry for someone else presents a challenge. We've put together a quick guide and some jewelry inspiration to help you out.
What to consider
If you don't have a body piercing, you might think that finding body jewelry is as easy as going down to the store and picking up a pair of earrings. Body piercings celebrate individual expression, so to the joy of those who enjoy body piercings (and to the frustration of their non-pierced friends who want to gift them jewelry), the jewelry types and styles are endless.
Although you can talk to a piercer or a jeweler about what jewelry to get, you'll have to do some reconnaissance to get information on the piercing so that you can choose the perfect jewelry.
Type of piercing
Before I entered the world of piercings, I wrongfully believed that the piercing name was simply the piercing location. There are lip piercings, nose piercings, cartilage piercings, and so on, right?
It's a little more complicated than that. Piercings have a specific vernacular surrounding them (labret piercing, septum piercing, and helix piercing to name a few), and you will need to know the name of your loved one's piercing before beginning your jewelry search. Many times, knowing the piercing location and doing a Google search will suffice, but the safest way to figure it out is to simply ask.
Looking for the name of a cartilage piercing? Check out our cartilage piercing guide.
Size
Once you've gotten the piercing figured out, you'll want to make sure that the piercing fits. There are two things to consider when sizing body jewelry: the thickness of the barbell and the length (or diameter if it's circular) of the barbell.
The thickness of the barbell is referred to as the gauge. Gauge sizes typically go from 20G at the smallest to 00G at the thickest. The correct size depends on the thickness of the actual piercing. If incorrect, it could stretch the piercing or hang loosely, so it's important to have the right gauge size.
The length and diameter of the jewelry is typically measured in inches and millimeters. While this aspect of sizing often comes down to preferred style, if the jewelry is too small, it won't fit properly in the piercing, and if it's too big, it could become cumbersome. Look at the jewelry that your loved one already owns to determine their size preference.
Style
Beyond the actual look of the jewelry, you'll have to consider how the jewelry is inserted and stays into place. Especially with nose piercings, there are many different options to choose from, and chances are that your loved one has a preference. Note: this list is by no means exhaustive, but it will introduce you to some basic diction should you choose to consult a piercer or jeweler for your gift.
Nose Studs
Hoops
Barbells
Materials
Choosing the proper materials for the body jewelry may seem trivial compared to the rest of the considerations, but it can make or break your gift. Many people suffer from skin sensitivities, so you must make sure that you choose a high quality metal that won't cause a reaction. While nickel is by far the most popular metal allergy, some skins react to any type of inexpensive metal. For those on a budget, surgical steel is often a great option for those with skin sensitivities. Bioplast and acrylic jewelry is also hypoallergenic, and the plastic material is more flexible than metal for a more comfortable feel.
Inspiration
Now that you're sufficiently overwhelmed by all of the considerations behind gifting body jewelry, here are some gorgeous pieces to help you envision your holiday present.
Belly Rings
Your loved one will adore the 14k gold glinting from their navel piercing. Check out the rest of our belly ring collection for more gift ideas.
Lip Rings
Small studs and hoops are by far the most popular jewelry styles in lip piercings. You can often find lip piercing jewelry that looks great in other piercings such as cartilage piercings and nose piercings. Check out the rest of our lip ring collection.
Cartilage Rings
When it comes to alternative jewelry, cartilage piercings are by far the most popular. Because of this, cartilage earrings come in perhaps the most varied styles and can, therefore, be difficult to shop for. Luckily, we've cultivated some beautiful pieces to make your job a little easier.
Nipple Rings
Give your significant other something fun and sexy this holiday season with some new nipple jewelry. Depending on your partner's style and whether they like to show off their piercing or keep it hidden for more intimate moments, there are tons of gorgeous pieces of nipple jewelry to choose from.
Nose Studs
Like cartilage rings, nose studs come in tons of different styles. Here are some of our favorites.
Septum Hoops
The septum piercing is one that is growing in popularity daily. Some prefer their septum jewelry to sit flush with their skin in a teeny, subtle hoop. Others like to let their septum hoops shine.
Show your pierced friends that you care this holiday season! And here's for the good news: FreshTrends is currently offering 30% off of almost everything for a limited time. Hurry and shop all of our styles so that you can make your loved ones smile.