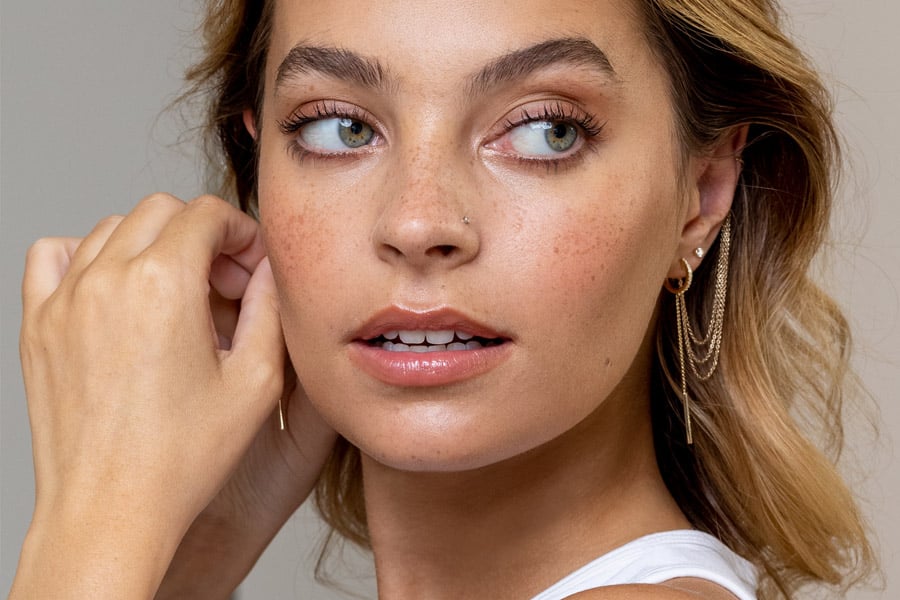 Change is inevitable, and oftentimes, change is more than welcome. As you ponder the ways that you want to change this year, you might be considering an update to your look. What better way to make that happen than with stylish new body jewelry?
There are tons of different styles waiting for you to try them out. Here are our favorite body jewelry trends for 2022.
1. The Ornate Daith
When you're building a beautiful cartilage party, the daith piercing perfectly fills the center portion of the ear. Many opt for classic hoop options, like seamless rings, circular barbells, and captive bead rings. But, you shouldn't limit yourself when it comes to this versatile piercing.
Choose ornate clicker hoops that will bring your daith piercing to the next level. These hoops fill out the center portion of the ear, drawing attention to this alluring look. Not only does it provide a look like none other, it will complement the rest of your cartilage party in a way that's unforgettable.
Clicker and segment hoops are so-named for their clasp style. Clicker hoops have a hinged section that opens for insertion, while segment hoops have a piece that you can completely remove from the ring.
These hoop styles are super easy to use (especially in septum piercings) which allows them to be a bit more intricate than other hoop styles.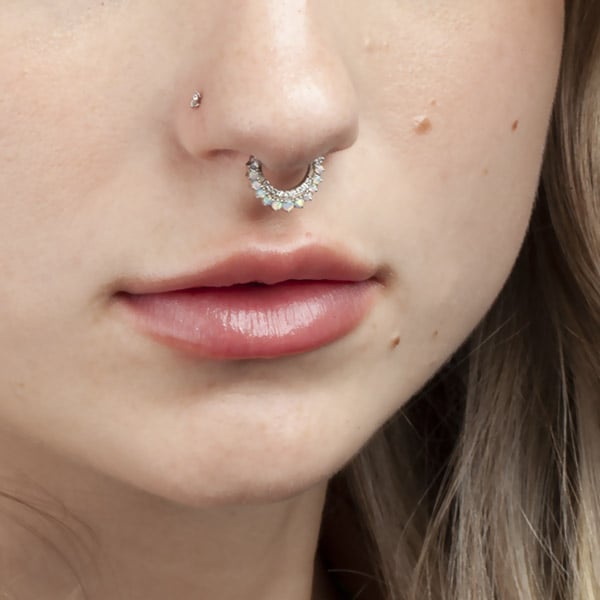 There's few more alluring looks than a beautiful, intricate hoop sticking out of your septum piercing. Whether you want to remain subtle with cubic zirconia gemstones lining your septum hoop or try something a little bolder, like a hoop with a v-shape, we encourage you to try more daring septum hoop looks.
3. Minimalist designs
If you're not sold on bold, then minimalist designs can also bring your piercings to a new level in a different way.
Opt for tiny gemstones or charms in your cartilage, nose, or lip piercings for a gorgeous, yet understated look.
Dainty jewelry is perfect for those who have multiple piercings who prefer trim designs. You can go for a number of looks such as clustering many of the same types of jewelry, choosing a few different charm options, or combining studs and sleek seamless hoops. Just because it's minimalistic doesn't mean that it can't stand out.
4. Put A Hoop In Your Conch Piercing
If you already have a conch piercing, you might decorate it with a cartilage stud, which seems to be the most common jewelry for this piercing style. To update your style, invest in a large hoop that goes through your conch piercing and around the edge of your ear. This larger hoop will completely change your conch look making it seem as though you've received an entirely new piercing.
Before you invest in hoop jewelry for your conch piercing, you must talk to your piercer to make sure that your conch is pierced in a way that will accommodate a hoop. If the hoop doesn't sit in your piercing properly, the jewelry could press against your piercing holes which may cause damage even in a well healed piercing.
5. Add some color with opals
Opals are arguably one of the most stunning gemstones. It seems impossible that such amazing swirled tones can be achieved naturally, yet Mother Earth has gifted us with unmatched beauty yet again.

Opals come in all types of colors, so you can find your ideal style whether you prefer more natural white tones or bolder hues. Mix and match different opal looks for a truly beautiful body jewelry collection.

6. Explore spiritual designs
Spiritual symbolism helps to remind us of the important things in life. When we must seek out higher powers to guide us, these symbols can point us in the right direction.
Choose from a number of options that best represent your personal beliefs. You can wear these charms in a number of cartilage and lip piercings, and they come in different sizes so that you can choose the style that best fits your personality.
7. Spiral Barbells
Spiral jewelry captures the look of a hoop with the beaded style of a barbell. With their twist, they created a double-pierced aesthetic with only one piercing.
The spiral barbell look is perfect for those who would love to sport the multiple-helix look without undergoing the needle twice. Don't just stop at the cartilage. Spiral barbells can also be worn in pretty much any piercing that accepts a hoop for those looking for a statement that's slightly bolder than a simple ring.
8. Piercing Accessories
Maybe you've cultivated a jewelry collection that you love, but you want a little something extra. Instead of investing in an entirely new piece of jewelry, try some jewelry accessories to completely transform your favorite stud.
A simple chain turns any stud into a hoop or dangle piercing, creating an alluring look with a simple add-on. And, when you want to go back to a standard stud aesthetic, simply take the chain off. You can even connect two different studs. Your only limitation is your imagination.
You don't have to buy an entirely new piece of jewelry in order to have an entirely new piece of jewelry. Get creative with add-ons and accessories.
Just because you might not be able to get pierced right now doesn't mean that you can't explore new piercing looks. As the new year approaches, it's time for you to discover your premiere piercing style.