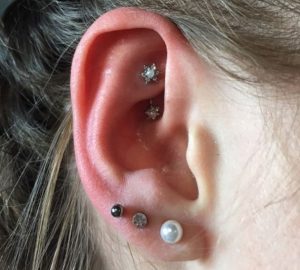 A rook is one of the coolest types of piercings I have ever seen. To get the look, a piercer passes a needle through the rook ridge (also known as the anterior crux of the anti-helix). A single piece of jewelry, normally a curved barbell, will be passed through the piercing once it's pierced. Healing time varies, but will take around six months for primary healing. The entire piercing should be fully healed within a year to a year and a half. Standard cartilage piercings normally take the longest to heal. 
Since I'm not exactly a piercing expert, I asked a couple professional piercers to weigh in on the difference between a rook and faux rook. 
"A rook is through one piece of curved cartilage while a faux rook is for people who don't necessarily have the proper anatomy for a standard rook placement. For the faux, there are two separate pieces of jewelry instead of one. The top would be pierced low to get the look of the top and the bottom would be a high conch essentially."
— Faith Niz, Grim City Tattoo Club 
"A rook is the little horizontally-placed scrunched bit of cartilage. People typically wear linear pieces of jewelry like a little curved barbell or a little hoop. A faux rook is like a regular cartilage piercing (pierced front to back) and is just in the same rook area so it looks like a floating rook. You don't see the back (instead of having a bottom)."
— Riley, Studio 54 Tattoo
https://www.instagram.com/p/BDt6QmXokyJ/
Because the rook is such a popular piercing and because everyone has their own preferences, there are different ways to get the faux rook look. You don't even have to get two piercings to mimic the standard rook. Some people opt for only the top or bottom piercing, rather than both. Others get one ear pierced with the top bit, and the other ear pierced with the bottom bit to shake things up a bit. 
Rooks and faux rooks are very much on trend right now. Whatever may fit your preference, I highly recommend trusting a local, experienced piercer to give you this style. 
Just be careful with your rook. Be gentle with it until it heals and use proper aftercare products to prevent infection. And once it fully heals, be sure to amp it up by fitting it with a stylish rook piece of your choosing! 
Featured image by Faith Niz