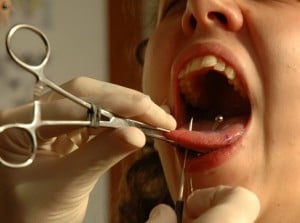 If you are willing to get intimately close to your piercer to have yourself pierced (in a professional manner, of course!) you have to be able to communicate exactly what you want. Communication is one of those life skills that always comes in handy, especially regarding your body and having things done to it.
Know What You Want Ahead of Time
Arrive at the piercing studio knowing what you want, what kind of body jewelry you have in mind for it, and have a basic understanding of the technique involved. The piercer will take you more seriously if they know you know what you want.
Walking in with a vague understanding of the piercing you're after is a surefire way to wind up getting something you're not happy with, so Google-crazy ahead of time. Come armed with photos, questions, and an idea of the jewelry you'd like to start with.
Talk Jewelry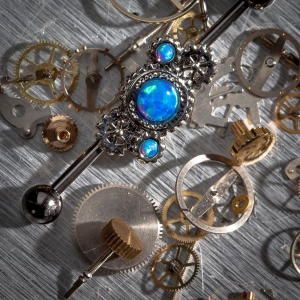 Many piercers have different opinions of which jewelry is best to start with, as well as which materials are ideal for various piercings. Keep in mind your body's own sensitivity levels, and then discuss with your piercer what they feel is the best option for you.
For the most part, the industry standard is titanium or surgical steel body jewelry for a fresh piercing. If you prefer another material, like gold or Bioplast, you'll want to discuss the option with your piercer ahead of time, and get that jewelry ordered in time for your big day.
Remember, you don't have a lot of leeway here – what they think is best is ultimately going to protect them from liability, so if your piercer's policies don't align with what you want, get that figured out before you go under the clamps.
Get a Feel for Their Reputation
Ask your pierced friends and do some research to find a piercer with a decent reputation. You should have a great deal of trust in the person performing the procedure, so make sure you are very comfortable with the piercer. If something doesn't feel right, you shouldn't go through with the piercing.
Look for someone with nothing but great reviews from their customers, in a clean, licensed, reputable shop. Getting a fresh piercing is exciting enough, there's no need to let your cousin do it over the bathroom sink.
Get a feel for their attitude, how comfortable you are with them, and their communication skills. If at any point you feel bullied or talked down to, walk right out – they don't have to put up with unruly customers, and you definitely don't have to put up with an asshole piercer.
Discuss the Details…In Detail
A true professional piercer will go over all the details of the procedure, talk about aftercare, the risks, and cost involved. If your piercer doesn't take the time to do this, take the initiative yourself and ask these questions, as they are important.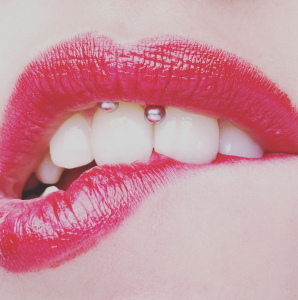 Many piercers send their customers home with printouts full of aftercare information. The most important questions to ask are:
What kind of jewelry will I start out with?
What gauge is the needle?
When is it safe to change out my jewelry?
What type of jewelry should I wear?
How long does it take to heal completely?
Don't just trust what you read on the internet (yep, even here), as best practices are constantly evolving, and ultimately, nobody knows these better than a reputable, experienced piercer. Take charge of your experience, but defer to theirs when it comes to aftercare.
Remember, if you have questions, don't hesitate to ask them BEFORE the piercing is done. If you feel uncomfortable with your piercer's manner, attitude, or the cleanliness of the studio, etc., you have the right to leave immediately and find another piercer.
Happy piercing!