Sometimes, you have to spoil yourself with some gold. Or, if you're like me and have sensitive skin, gold is one of the few options to avoid angry skin. Either way, we have some brand new 14K body jewelry that you're going to love!
Sleek and Minimalistic Shapes
No reason to get too complicated; basic shapes offer a tried and true classic look! Stay simple with the Tiny Round Disc 14K Gold Labret Cartilage Earring Stud. The Bar Stud 14K Gold Cartilage Earring Stud offers a sleek design that looks adorable without too much flair. The triangle is nature's strongest shape. Use the Tiny Triangle 14K Gold Cartilage Earring Stud to represent your inner strength.
The dainty nature of these earring studs means that you can show off your style without being too loud. And since they're 14K gold, they look great whether you're going about your day or attending a classy event.
Stellar Studs We Love
While basic shapes are classic, sometimes you need something out of this world. For the night owls, we have the Tiny Crescent Moon Cartilage Earring Stud. Show that you're a star with the Tiny Star 14K Gold Cartilage Earring Stud. Or, spread the love with the Tiny Heart 14K Gold Cartilage Earring Stud.  The best part about all of these new gold studs is that they all come in different gauges and lengths to suit your specific body piercing.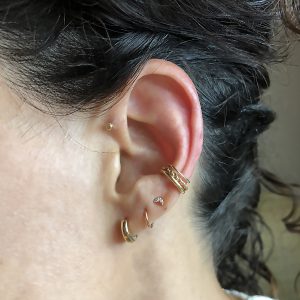 Whether you're looking for a standard 16G 5/16″ barbell for your Tragus or Helix, or a dainty 18G 1/4″ Forward Helix stud,  we've got your cartilage ear piercings covered.  These versatile gold labrets are not only limited to cartilage piercings, but they are also suitable for tiny lip piercings (16 gauge 5/16″) and even nose piercings…yep, you heard me, Nose Piercings! If you're having a hard time figuring out what size is right for your piercing, then our Body Piercing Size Help Chart and our Body Jewelry Shopping Guide may help you find the right fit.  But if still in doubt, call your piercer and ask him or her to tell you which size he used for your piercing.  Nowadays most professional piercers keep a record of their customers and their piercings.
Cool Clickers
If you follow our blog, you know that we love clickers! Get on board with this new trend with the Diamond Pave Flower 14K Gold Hinged Clicker Ring. Who says engagement rings have to go on your finger? Take a new approach with the Tiny Engagement Ring 14K Gold Hinged Clicker Ring, which looks adorable as a helix earring. But don't take our word for it. See for yourself: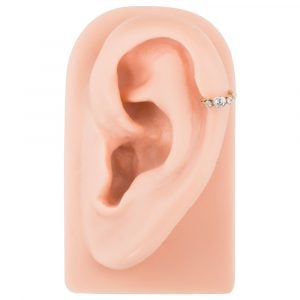 Super Cute Navel Rings
All I am saying is give peace a chance! The Peace Sign 14K Gold Belly Button Navel Ring will reveal your inner hippie. With so many cool new body piercings out there, it's easy to forget the classics.
You got your piercing to show off your unique style. It's time to show pride in your piercing with gorgeous gold jewelry that will last. All of FreshTrends' luxe 14K gold styles are handmade in the U.S. exclusively for and by FreshTrends, so you can be sure that you are getting the highest quality jewelry. Don't forget to check out the rest of our 14K gold body jewelry, too.