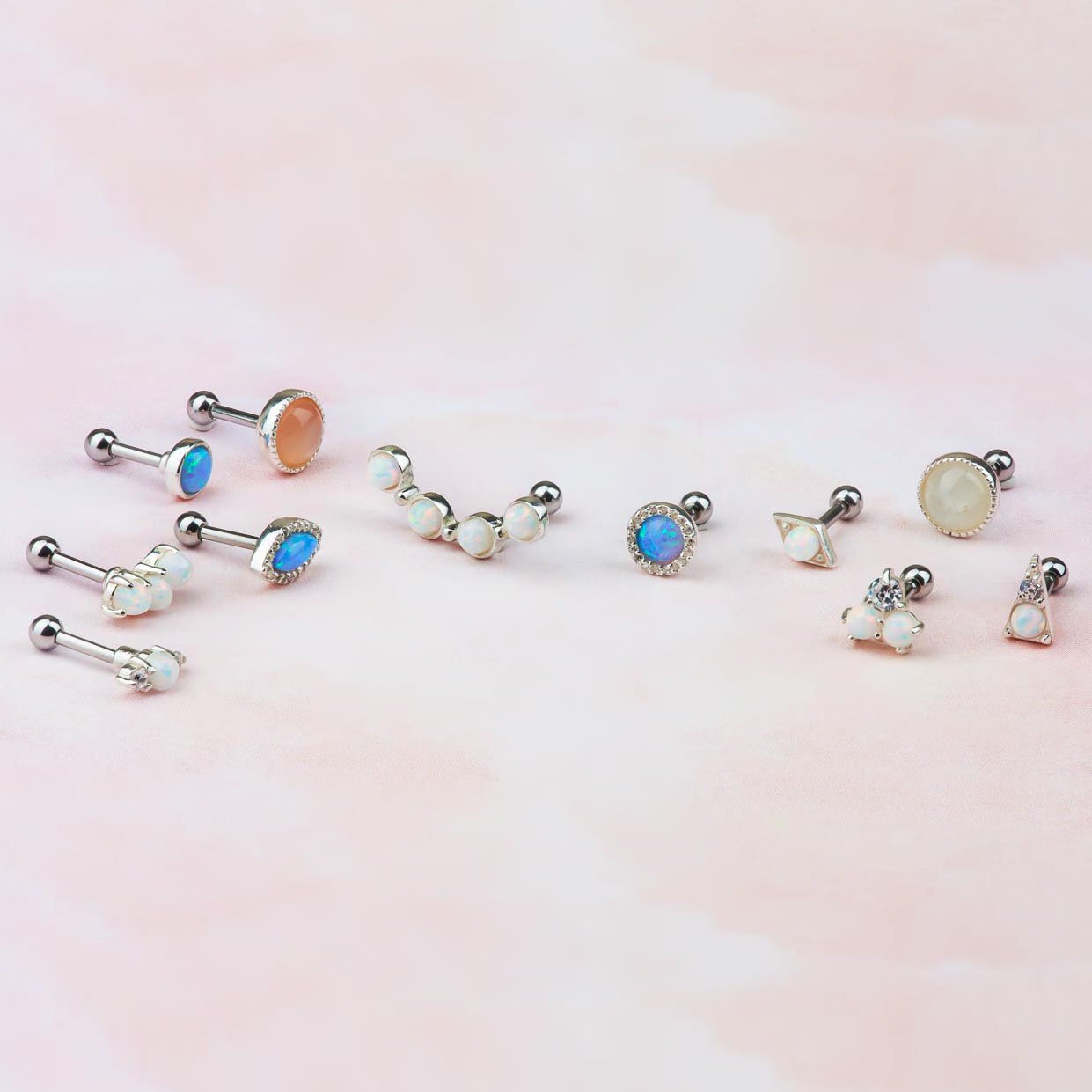 Here at FreshTrends, we believe that quality piercings deserve quality jewelry. That's why we pride ourselves on our handcrafted, custom jewelry made only from the finest materials.
Last week, we rolled out a batch of new 14k gold jewelry, which we love, but now we're excited to reveal our new products made from gold's grey cousin: sterling silver.
What is 925 Sterling Silver?
Pure silver is susceptible to dings and scratches and requires more maintenance than other precious metals to avoid tarnishing, jewelers mix a metal allow with their silver to ensure durability. 925 sterling silver simply means that the jewelry is comprised of 92.5% silver. Sterling silver, therefore, is more durable and requires less maintenance than silver (although you will still want to polish jewelry every once in a while to avoid tarnish).
Sterling silver offers the quality of precious metal in a color that compliments cooler skin tones and at a price usually less expensive than gold. Here are some of our brand new sterling silver styles.
Lots of Leaves
Leaves are nature's indicators of the changing seasons. Whether you love the changing leaves of fall, the little leaf sprigs that emerge in spring, or enjoying the shade of a leafy tree in the summer heat, you know one thing for sure: life would not be the same if not for these little wonders. The Leaf Cluster Sterling Silver Cartilage Earring Stud presents a cute and simple gathering of leaves. Get fancy with the Fancy Leaf Cartilage Stud or the Filigree Leaf Cartilage Stud. The Leaf Ear Climber Pin Earrings gracefully climb your ear and allow you to channel your inner woodland elf.
Seek the Seashore
Some people always feel the call of the ocean bringing them home. Show your affinity for sea life with these adorable cartilage studs. The Sea Shell Sterling Silver Helix Stud is perfect for those who love to spend hours combing the beach for beautiful shells. If you appreciate the wonders that nature provides, celebrate that with the Clam Shell Cartilage Stud.
Simple Shapes
If you're the type who believes less is more, then you will appreciate the simple beauty of these cartilage piercings. Look closely; the textured rim shows that there is always more than initially meets the eye.
We love the tiny design of these simple shapes. Whether you want a small addition to a grouping of cartilage piercings, or you simply want a small earring that subtly sparkles without drawing too much attention, the neutral coloring of the sterling silver along with the small size means that you can get creative with these teeny studs.
Dare to Dangle
Sterling Silver Cartilage studs are adorable, but sometimes you need to go a little outside of the box. Show your personality with these two cartilage dangle earrings. The Hammered Tribal Shield hangs from the side of the ear, offering a unique twist to a classic piercing. Or, combine modern aesthetics with the eternal beauty of a pearl with the Pearl w/ Dangle Charm Cartilage Earring Stud.
Be Original With Opal
If you enjoy the quality of sterling silver, then you should also appreciate the quality of your gems. The iridescent coloring of these faux opal gems casts a magical quality, and the subtle color tones ensure that you can wear these pieces of jewelry with any outfit. The Crescent Bezel Cabochon Sterling Silver Cartilage Climber lines the inside of your ear, showing that you value class and enjoy modern fashion. For a smaller token of your high-quality style, try the Bezel Opal Cabochon Cartilage Stud. The Modern Prong Set Opal Bead Cartilage Stud places the opal in a diamond-shaped setting, offering a unique juxtaposition of shapes.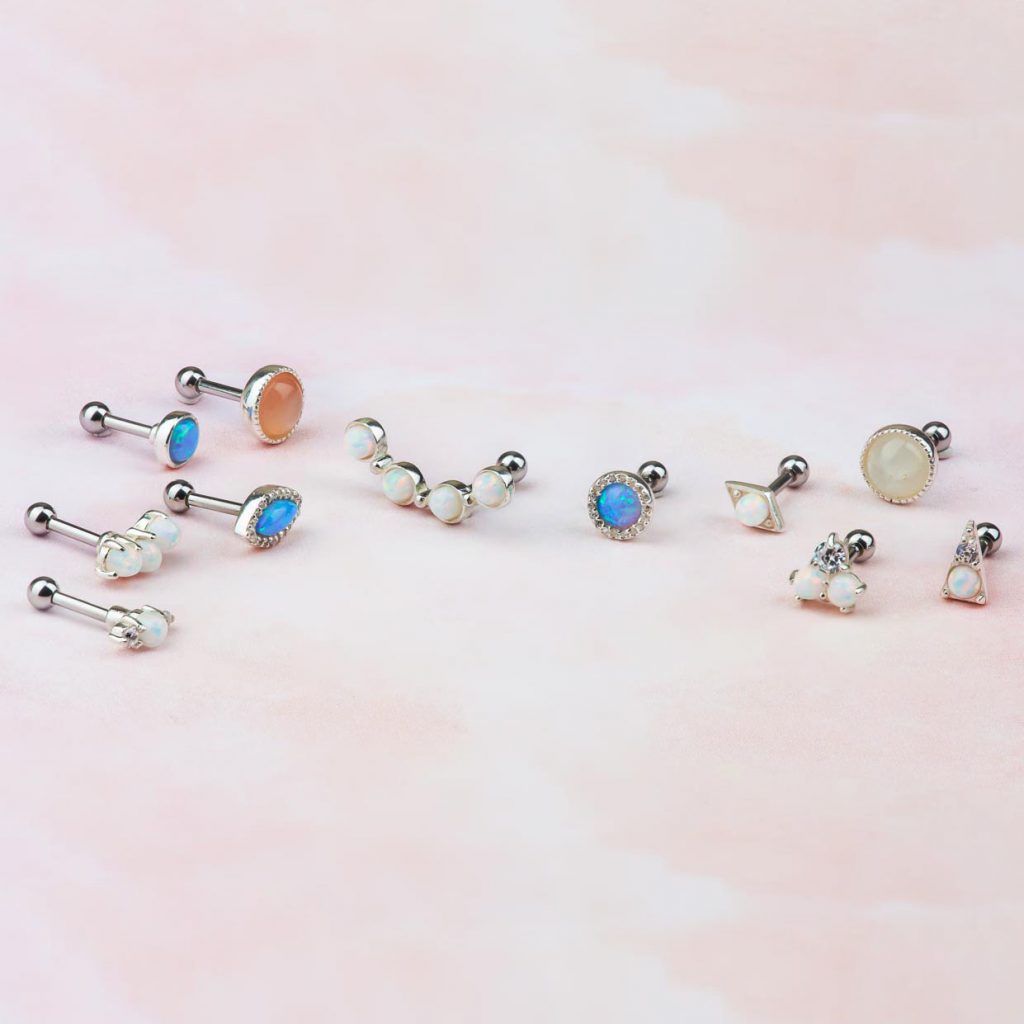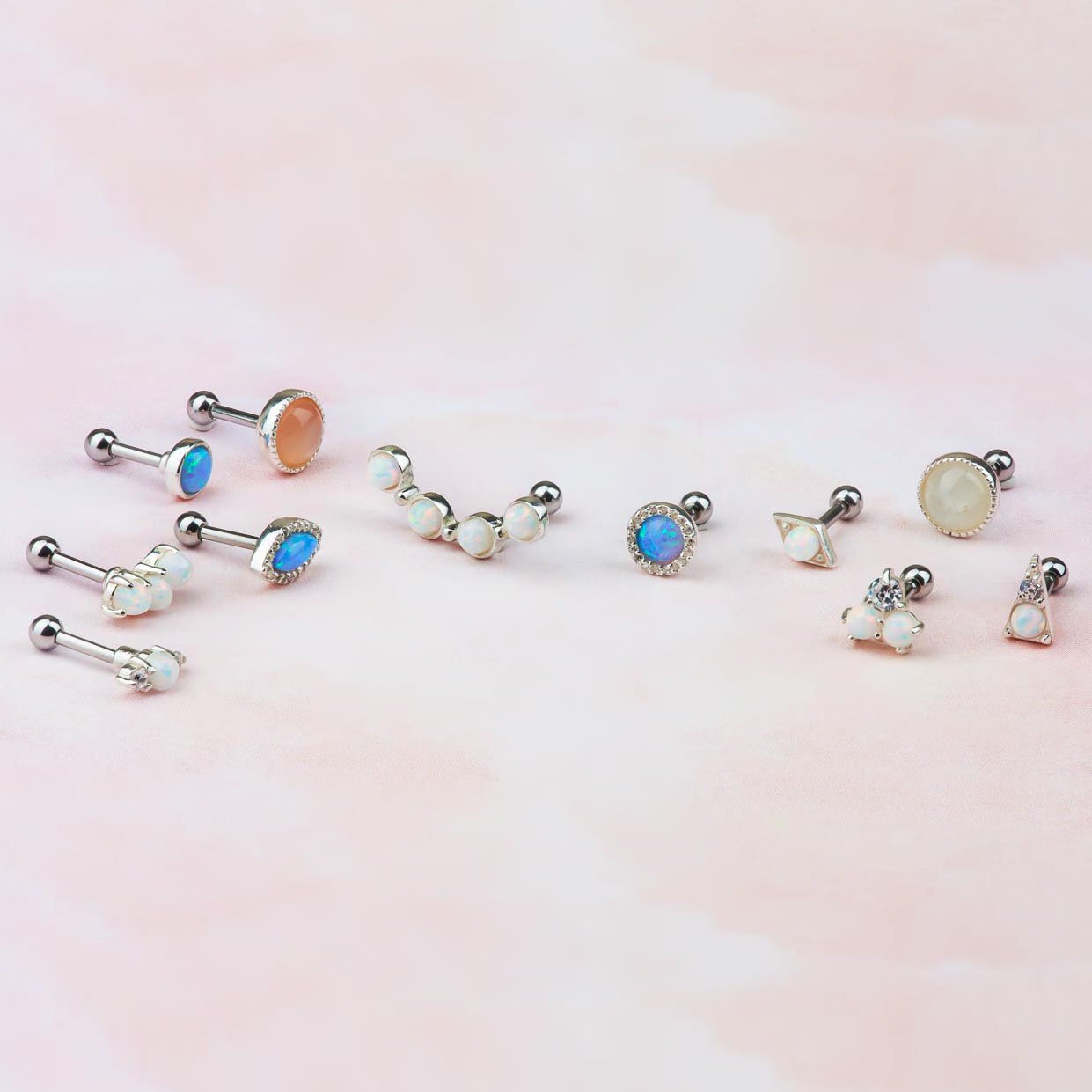 Don't stop at these three opal cartilage studs. We have a bunch more new sterling silver cartilage studs featuring sparkling cubic zirconia gems.
Delightful Designs
Sterling silver may be a precious metal, but that doesn't mean that you can't have a little fun with it. The intricacy of the Twisted Rope Knot Cartilage Stud almost has you believing that you are looking at a strong knot rather than a super cute earring. Show that you believe that some things do last forever with the Infinity Twisted Rope Cartilage Earring Stud. Is there anything better than fresh office supplies? If you love the feeling of a fresh notebook and new pens, then the gem-studded Safety-Pin Twisted Rope Cartilage Stud is for you.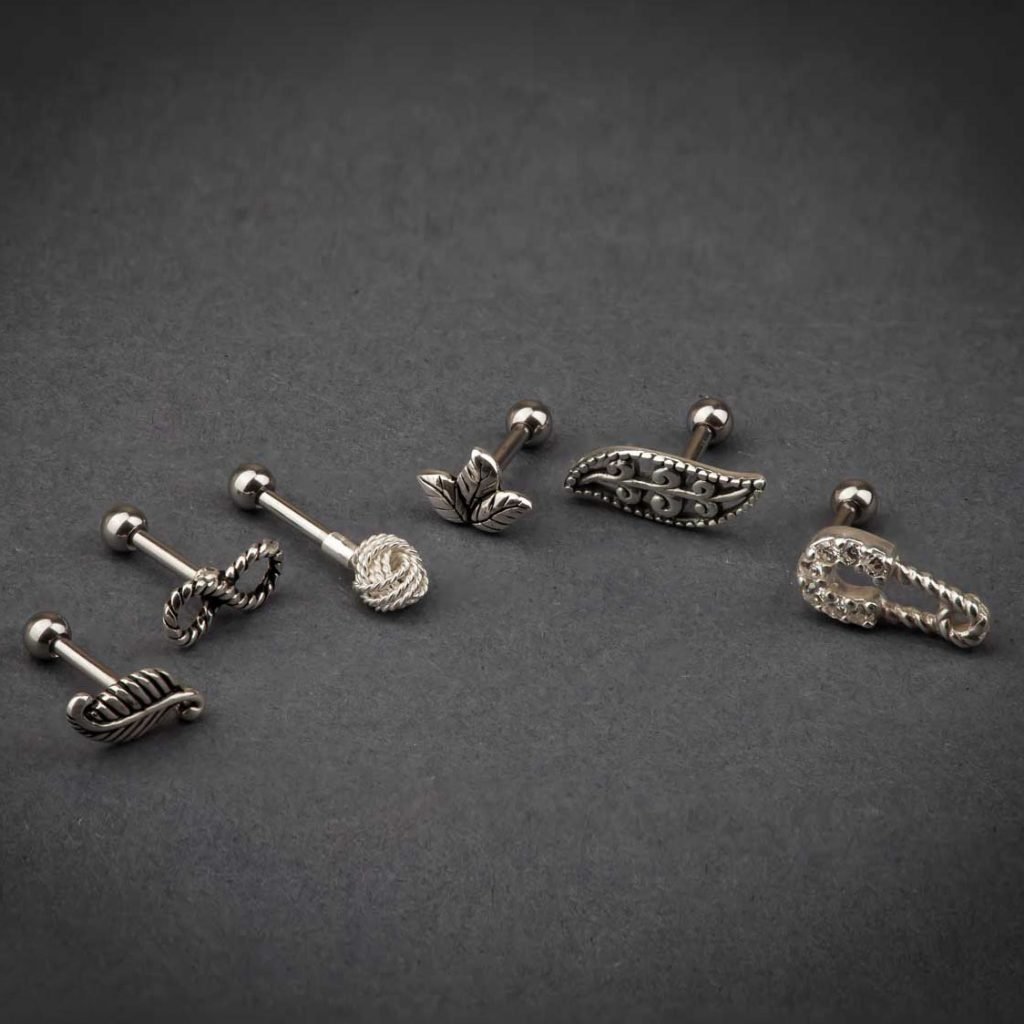 Our new sterling silver collection features so many adorable cartilage studs. From sleek and simple shapes to quirky designs, we have the jewelry to match your style.
BONUS: Sterling Silver Septum
The ears shouldn't be the only ones to enjoy the quality comfort of precious metals. Check out this adorable Gem Pave Septum Clicker. Its shape brings it flush with the nose, and the sparkling gems ensure that this is one piece of jewelry that will not be missed.
You already love your body piercings. You should also love the jewelry that you wear. Be sure to shop our other new sterling silver body jewelry as well.