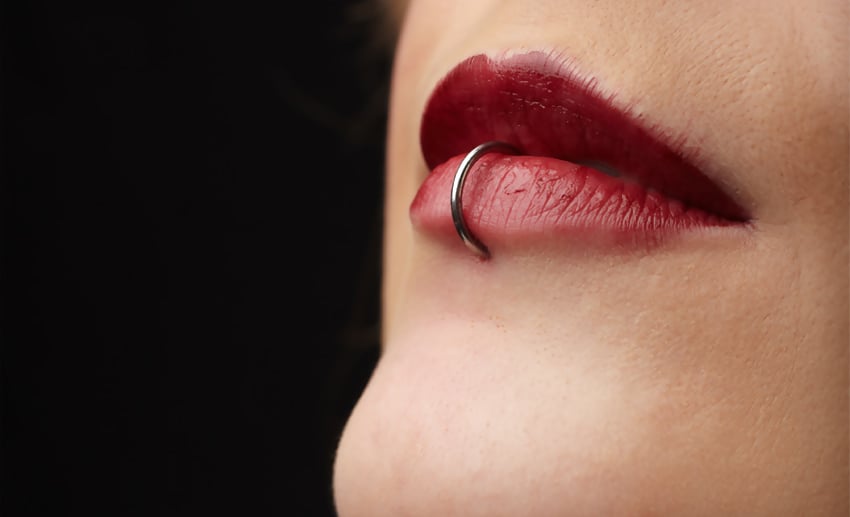 Looking for something amazing for your lip piercing? We have some amazing jewelry for you!
Dainty Lip Rings
Less is certainly more when it comes to our dainty lip ring options. With the Rose Gold Plated lip ring with a cubic zirconia gem, only the slightest shimmer shines from any lip piercing, allowing you to enjoy your piercing in a cute and quiet way. The 2mm Diamond Solid 14K White Gold lip stud has it all.
As part of our Luxe jewelry line, each piece is handmade by our own jewelers and features the highest quality materials. Set in a low profile setting, the diamond stays close to your skin for a subtle, gorgeous look that shines in any lip piercing. This style is also available in yellow gold, black gold, and rose gold.
Dainty doesn't have to be sparkly. For a minimalist approach, the Round Disc Labret Stud sits flat on your skin, offering a simple and subtle expression of your style.
14K Gold Lip Rings
We are more than proud of our gorgeous Luxe line. All of our 14K gold pieces are custom made, so you know that you're getting only the highest quality jewelry. Our 14K gold body jewelry is for those who take pride in their body piercings and value high quality materials that will look fabulous for years to come.
The Tiny Triangle 14K Gold Stud looks adorable peeking from any lip piercing. The versatility of this piece of body jewelry knows no bounds. Not only is it available in white and rose gold, it can be worn in a number of different piercing types, including cartilage and nose piercings, and it's available in other shapes, including a star, a heart, and a simple circle.
You'll love our twist on the classic hoop look with the Twisted Seamless Ring. Although it looks amazing in ear and nose piercings, we love the way it adorns a lip piercing.
If the circular barbell look is more your style, then you need to check out the Solid 14K Gold Circular Barbell lip ring. Available in a variety of sizes, you'll be sure to find the style that fits your look. Also available in white gold and rose gold.
Be sure to check out the rest of our 14K gold lip rings as well. Please note that since our Luxe jewelry is custom made, they are not eligible for return, so be sure to peruse our body jewelry sizing chart before purchase.
Hoops
You can't go wrong with a classic hoop. The Opal 14K Gold Circular Barbell comes in 10 different color choices, so you can be sure to rock your favorite color with the highest quality materials.
Why mess with a classic look? The 14K Rose Gold Seamless Ring Hoop offers the classic hoop aesthetic in an easy-to-use seamless ring hoop in beautiful rose gold. It's also available in black gold, white gold, and yellow gold.
Who says hoops have to be circular? The 14K Gold Seamless Hoop Ring offers a super cute alternative for your lip piercing. Don't miss out on the rose gold and white gold alternatives to this style as well.
For the Office
Lip piercings can be a difficult topic in the workplace. Since, by and large, lip rings have not claimed a spot as accepted workplace attire, hiding your lip piercing poses a challenge. FreshTrends offers a variety of lip piercing retainers in 14G, 16G, and multipack options so that you don't have to choose between your job and your individual expression.
Whether you prefer dainty looks or you like to wear your lip piercing loud and proud, we have tons of lip rings to choose from. Start shopping today!