US Music Festivals of 2017: The Experience, the Look, and the Life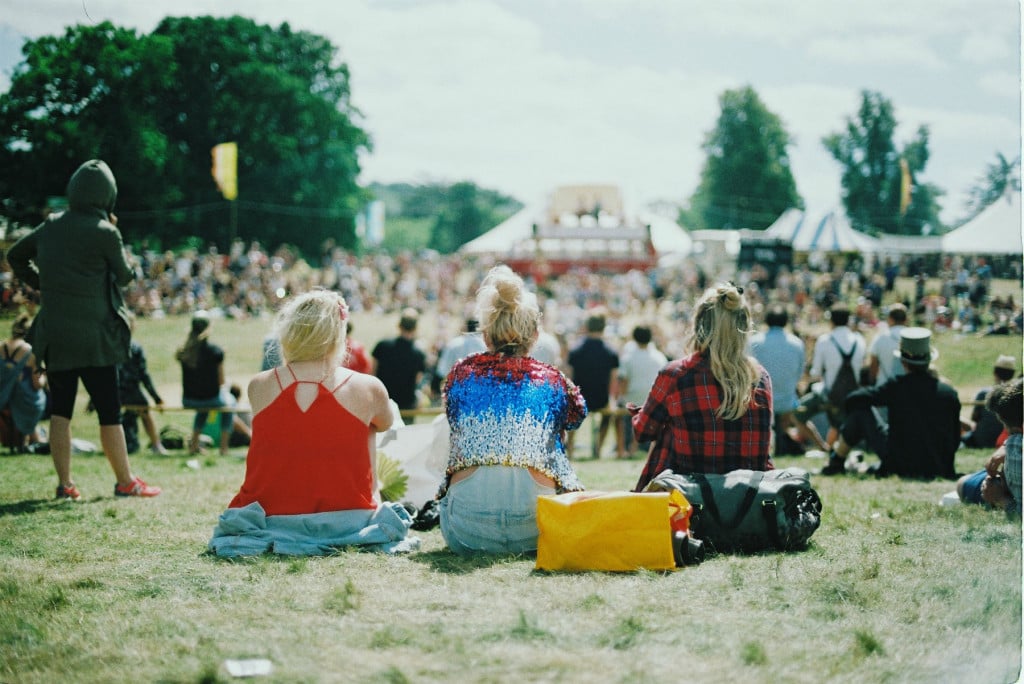 Oh my gosh you guys. Oh my GOSH. Things are melting. The sun is out more (no thanks to that f$*#er daylight savings time). I CAN FINALLY TAKE OFF MY SWEATER!!
Okay, I'm calm. But seriously, how excited is everyone about being able to show some skin and get drunk at bonfires again?? Hibernation is very cozy and everything, but spring and summer of 2017 have some exciting things in store for us, so it's time to crawl out of our caves and soak up the sun at some music festivals this year.
Music festivals are massive (typically outdoor) concerts that span two or more days and often include dozens of bands and musicians. It's more than just a concert – it's a cultural experience.
These festivals attract people from all over the country in droves, bringing people together in a way that nothing but a music festival can. Aside from the insane talent on the stage, there's often camping, vendors, plenty of alcohol to go around, and sometimes even speakers, workshops, and events.
Do yourself a favor and request some time off TOMORROW for a music festival this year. Gather a group of friends in defiance of the 9-5, round up some tents and a few coolers, and plan a musical festival trip you'll never forget.
What to Bring
Depending on the length of the music festival and the space available, what you'll need to bring is going to vary greatly. There's a fine line between packing light and being prepared, so be sensible and do your homework ahead of time to make sure you're not stranded without supplies.
Here's a checklist of what you might need:
cooler/ice
food and drinking water
a tent and a tarp
two changes of clothes per day
bedding (pillows, sleeping bags)
sunblock/big floppy hats/sunglasses
ibuprofen (for any ensuing hangovers)
soap and toothbrush
ID + cash stashes (store them in different, secure places)
personal protection like mace or a taser (look into local laws first)
car phone charger
Sharpies (for snagging autographs)
a swimsuit
a spare gas can + fluids (roadside emergency kit)
That should about cover it. The main thing to keep in mind is that every festival is different, and while some might provide access to electricity and water, you definitely can't count on it. If you plan to stay overnight especially, get these details hammered out ahead of time so you go prepared.
Music festivals are pretty much like camping meets concert meets bonfire party, so try to pack like you're going to all three.
What to Wear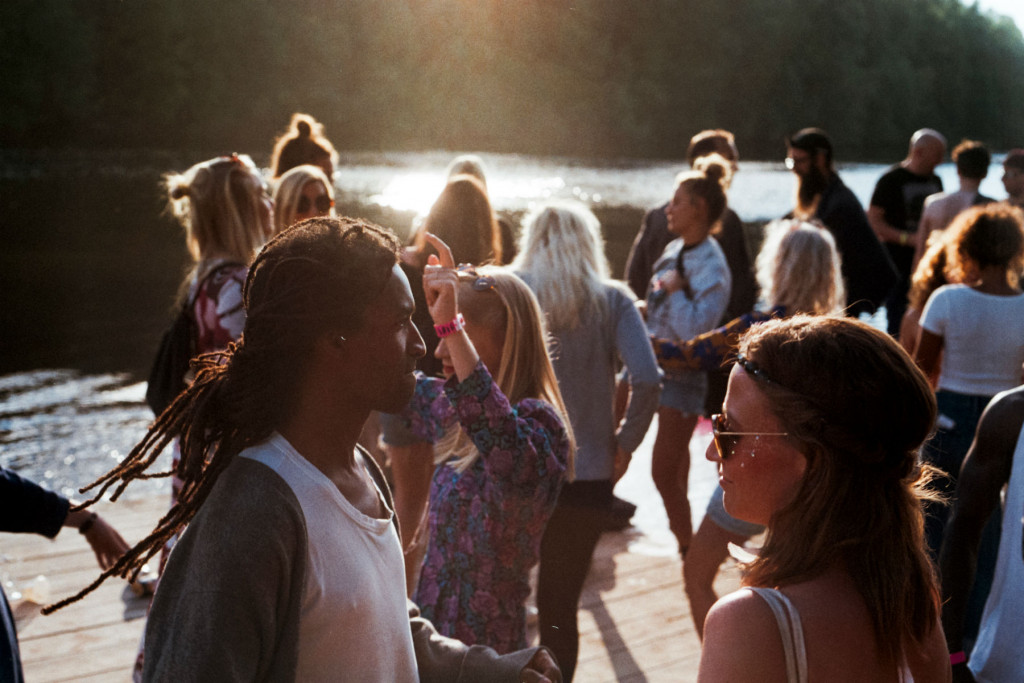 Pft. More like what not to wear – amiright?
This is probably my all time favorite thing about a big beautiful sunny music festival – the opportunity to absolutely, positively, wear whatever the hell you want.
This is more than some rudimentary social exercise – the music festival goes well beyond any social stigmas associated with people's appearances, and it's a rare opportunity to let who you really are shine through in a setting that is ill-poised to judge you based on which frock you decide to don.
Hate the summer heat? Go crazy and wear as little as is legally acceptable. Have a sequined crop top that's been begging for the limelight for years? Stop your worrying and put it in your overnight bag, 'cause you're wearin' it baby.
The only rule about what you wear to a music festival involves wearing what you're comfortable in, and that truly is it. Obviously don't let yourself fry in the summer sun in a wool coat, and make sure that whatever you wear protects you from long days under UV rays, but short of comfort and safety – go nuts.
My personal favorite picks (since Indie/folk music festivals are my jam these days) are backless dresses, ornate body jewelry, beachy hair with pastel colors, and anything with a plunging V neckline to show off my sternum tattoo. Bring plenty to wear, and make sure you add swimwear to your bag too, as there's inevitably an opportunity to cool off in settings like this and you want to come prepared.
Where to Stay
While a lot of music festivals provide camping on-site, some are a bit less informal and require participants to stay in nearby hotels or accommodations. Either option tends to be a deal-breaker for many, so again, research ahead of time so you can plan accordingly.
My personal favorite option is always to camp on-site; there's something electric about the vibe at a music festival, and being in the heart of it inevitably leads to some unforgettable experiences. Get a great tent (and for the love of god man, make sure you waterproof it), and plan for at least 30 degree temperature swings. Sleeping under a roof, many of us forget how hard it is to sleep when we're cold, so plan on bringing extra layers and even hats for most locations – even the desert gets freaking cold.
Campers are definitely the bees knees for music festivals, but make sure they're allowed at the venue you're heading to, and check to see what kind of hookups they have available for your rig. Don't wanna spring for a big RV? You can always rent one if you're feeling brave, but big old vans and buses make equally rad campers on a shoestring budget. Talk about a great project car – the Music-Festival-Mobile will not be something you ever regret spending time on, I promise.
Spring Music Festivals in the US of 2017
There are entirely too many music festivals going on this year to list here, but I've pulled a sampling together to give you an idea of what you can start looking forward to this season. From metal to R&B, there's an event out there for every taste, and if you're lucky, one within 100 miles of you.
| | | | | |
| --- | --- | --- | --- | --- |
| Name | Dates | Location | Artists | Cost |
| Pot of Gold Festival | March 17-18, 2017 | Tempe, AZ | Death Cab for Cutie, Flogging Molly, 311… | $69+ |
| MusInk 2017 | March 17-19, 2017 | Costa Mesa, CA | The Used, Story of the Year, NOFX… | $45+ |
| Starry Nites Festival 2017 | March 18-19,2017 | Santa Barbara, CA | Alan Parsons Project, Cellar Doors, She Wants Revenge… | $150+ |
| Treefort Music Festival 2017 | March 22-26, 2017 | Boise, ID | Gipsy Moonrise, Love-Lace, Sly Moon Sutra… | $89+ |
| Beyond Wonderland 2017 | March 24-25, 2017 | San Bernardino, CA | Astrix, Darren Porter, Go Freek… | $279+ |
| Tortuga Music Festival 2017 | April 7-9, 2017 | Ft. Lauderdale, FL | Kenny Chesney, Nelly, Daya… | $229+ |
| Rhythm n' Blooms 2017 | April 7-9, 2017 | Knoxville, TN | Young the Giant, Parker Millshap, Shimmy & the Burns | $65+ |
| Coachella 2017 | April 14-23, 2017 | Indio, CA | Bon Iver, Lady Gaga, Radiohead, The Head and the Heart, The XX… | $399+ |
| Sweetwater 420 Festival 2017 | April 21-23, 2017 | Atlanta, GA | The Dirty Heads, Organik, Thrice Groove… | $123+ |
| Something Wonderful | April 22-23, 2017 | Dallas, TX | DJ Snake, Don Diablo, The Him… | $120+ |
| M3 Rock Festival 2017 | April 28-30, 2017 | Columbia, MD | Faster Pussycat, Black Stone Cherry, Queensryche… | $60+ |
| Middle of the Map Fest 2017 | May 4-6, 2017 | Kansas City, MO | De La Soul, Anna Wise, The Architects… | $75+ |
| Waking Windows 2017 | May 5-7, 2017 | Winooski, VT | Ellen Degenerates, Ravi Shavi, Big Thief… | $55+ |
| Upstream Music Fest 2017 | May 11-13, 2017 | Seattle, WA | Flying Lotus, Alunageorge, Thunderpussy | $135+ |
| Northern Invasion 2017 | May 13-14, 2017 | Somerset, WI | Godsmack, The Offspring, The Pretty Reckless… | $99+ |
| Joshua Tree Festival 2017 | May 18-21, 2017 | Joshua Tree, CA | House of Hamsa, Desert Rhythm Project, Yak Attack… | $70+ |
| Neon Desert 2017 | May 27-28, 2017 | El Paso, TX | Foster the People, Ty Segall, Alesso… | $119+ |
| Governor's Ball Music Festival | June 2-4, 2017 | NYC, New York | Tool, Childish Gambino, Cage the Elephant… | $105+ |
| Bonnaroo Music Festival 2017 | June 8-11, 2017 | Manchester, TN | Lorde, The Red Hot Chili Peppers, Marshmello… | $325+ |
| CMA Music Festival 2017 | June 8-11, 2017 | Nashville, TN | Filmore, Jamie Lynn Spears, Adam Sanders… | $203+ |
| Mountain Jam 2017 | June 16-18, 2017 | Hunter Mountain, NY | Tom Petty and the Heartbreakers, Shovels and Rope, Steve Miller Band… | $194+ |
| Sierra Nevada World Music Festival 2017 | June 16-18, 2017 | Boonville, CA | Mellow Mood, Sinkane, Gentleman… | $90+ |
| What the Festival 2017 | June 16-19,2017 | Dufur, OR | Gramatik, Zhu, Brasstracks… | $300+ |
Browse all of this year's hottest music festivals in the US here.
What did you wear to the last music festival you went to? Share it on Instagram with us, or tell us in the comments below! #freshtrends