Tattoos and Piercings at the Beach – Precautions to Take This Spring Break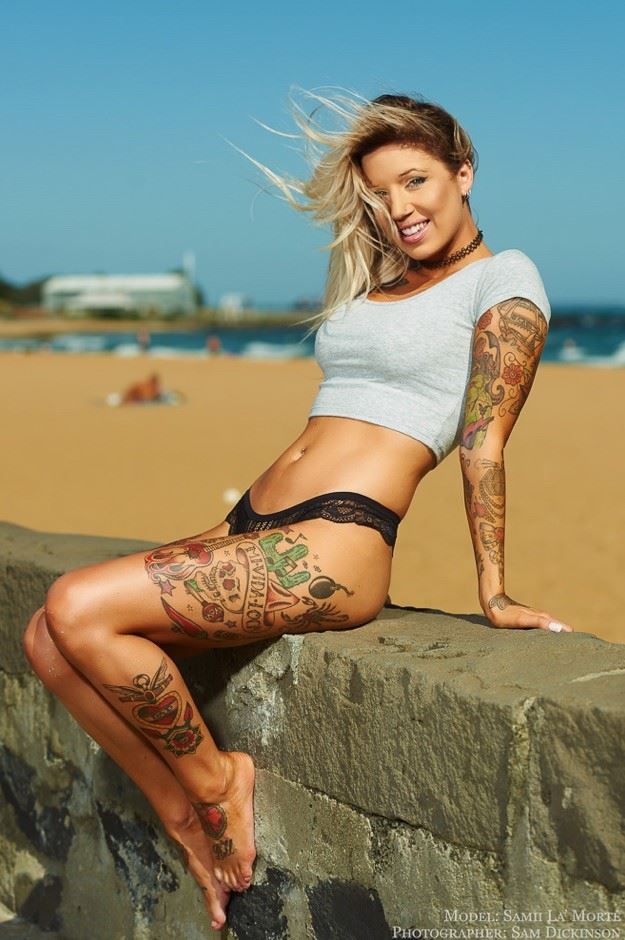 Time to shake the snow off your shoulders my loves – spring is just around the corner. As father winter prepares to (finally) turn in for the season, I'm already dreaming up big plans to spend some quality time on the beach. Spring break signals the start of the annual migration for thousands, as we all prepare to fill a cooler with beer and seek warm, sunny climes. The only question is, are you prepared for how to handle your tattoos and piercings at the beach?
Beach Hazards for Piercings
Spring break at the beach is a great place to unwind after months of having your nose to the grindstone, but if you have body piercings, there are some important things to be aware of to make sure yours don't get infected, or worse, torn.
Sand in All the Wrong Places
The most obvious threat to piercings fresh and healed, getting sand in your piercing is the fastest way to start causing problems. Make sure you put jewelry in that fits well, and after a romp in the sand, rinse your jewelry under cold, clean water to dislodge and sand that might have gotten between you and your body jewelry, rotating and manipulating the jewelry as you rinse.
Infection and Ocean Water
Though salt water is a great way to fight the onset of bacteria and reduce the risk of infection, the same thing does not apply to ocean water. If you have a piercing still in the healing stages, I have some bad news – you shouldn't be in the ocean.
Though ocean water is salt water, it's also riddled with naturally occurring bacteria, in addition to the pollutants that are becoming increasingly common. If you just got a piercing, or you have one that's currently infected or going through a transitional phase, it's better safe than sorry. Sorry love, no swimming in the ocean for you.
Piercings and Sun Damage
Getting a sunburn in an area you have a piercing is more than just uncomfortable, it's a hazard. If your sunburn is too severe, it can actually cause swelling in the area, and the jewelry can become too tight. Use plenty of sun protection around pierced areas, and if you do get a sunburn, do everything you can to reduce inflammation (running cool water over the area is a great start, taking some ibuprofen will help).
Reactant Body Jewelry Materials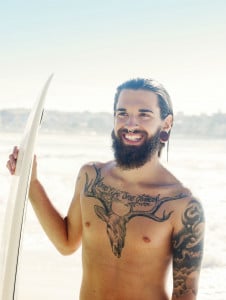 There's a lot going on chemically on a beach. The salt water is much different than what your body is usually exposed to, and can cause some issues with some types of metals. When you're getting ready for the beach, choose body jewelry that's made of the most neutral materials possible.
Silicone and bioplast body jewelry are great for the beach because they're flexible and allow for comfortable movement, and they won't heat up in the summer sun. Even better, these materials are nonreactive, so they won't turn a weird color or deteriorate in the seawater. In extreme cases, the color can fade, but if that starts to happen, it's probably time for you to get out of the sun, too.
Surgical steel, titanium, and gold are great metals to wear to the beach if you have to have something shiny. Just be sure to avoid anything nickel-plated or sterling silver, as these do react pretty easily with certain types of water and prolonged sun exposure.
Keeping Your Jewelry In on the Beach
One of the most common problems beach-goers with body piercings face is a simple enough one – not having their jewelry in tight enough. As you're crashing through waves and jumping around during a game of beach volleyball, your piercings are twisting and moving around with you, and if they aren't secured tight enough they will fall out.
Before you go crazy out there, check that your threaded jewelry is screwed on tightly and that captive beads are properly aligned. Keep your jewelry selection clean and minimalistic, opting for simple designs with fewer dangly bits. This will help to keep the jewelry from being turned around as much, but also to prevent it from getting snagged on anything.
Tattoos on the Beach
It is totally ironic to me how sickeningly sexy tattoos look on the beach, simply because sand and surf are definitely tattoos' sworn mortal enemies.
Sun Protection for Tattoos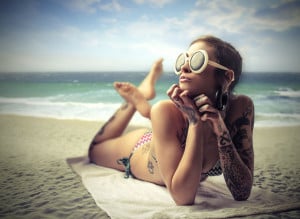 It's not just for fresh tattoos. Sun causes everything to fade, including your beautiful ink, and the result can be pretty sad looking: blurred lines, indiscernible shapes, and a chalky, faded appearance that makes it difficult to tell what it once was. If your tattoo is fresh, it's best to keep it covered with actual fabric (something breathable) so that sun can't touch it in areas as intense as the beach.
If you have a fresh tattoo, there are some great products out there to ensure that your tattoo stays clean and protected, like this healing cream from H2Ocean. Use it before you head out to the beach, and then double up with either a light layer of cotton clothing or some great tattoo protecting sunscreen like this.
If you have a healed tattoo, it's still imperative you take measures to protect and preserve the colors in your ink. Use a really strong sunscreen designed to nourish your skin and protect you from sun damage. Basic sunscreens are better than nothing, but special formulas made specifically for tattoos will give you the protection you need, plus some excellent ingredients for keeping the skin moisturized and healthy in salt water.
If you're wanting to work on your tan but not fade your tattoos, I highly recommend a tattoo sunscreen stick like this one from Tattoo Goo. It's a potent, moisturizing formula that will keep your tattoos from fading, but still let you get that golden glow while you lay surf-side. Since it's a stick, it won't get everywhere, and you can tan without having weird lines where the sunscreen went everywhere.
Keep Sand Off of Fresh Tattoos
I feel like this one's a given, but in case you weren't aware, sand in a fresh tattoo f*@%king hurts. If you plan on laying on the beach, don't do it on a terry towel. Use something softer and smoother, like a woven beach blanket. If you can stand to do it, keep your fresh tattoos under a protective layer of clothing, and always rinse them with cold, clean water when you're done to clear away any remaining sand.
Ocean Water and Fresh Tattoos
If you have a tattoo that's still healing, it's best to avoid the ocean, and it's as simple as that. If you decide you have to get a sick koi tattoo while you're in Panama City, do it on your last day, or spend the rest of your trip being responsible on the beach while everyone else swims.
Seawater is full of minerals, which is great, but it's also full of the bacterium that exists in any ecosystem – E. coli for one. Always wait at least three weeks after getting a new tattoo before jumping into the ocean, or you'll be putting yourself at very high risk for infection.
Are you going somewhere amazing this spring break? Tell us where in the comments below!