The metal titanium was named after the Greek mythological Titans because it combined incredible toughness with gleaming beauty. Today, titanium is one of the most popular metals for creating jewelry, due to its lightweight strength and shining luster. Because of the anti-corrosive properties of the metal, it retains its shine and freshness even after years of use. FreshTrends.com has an expansive selection of anodized titanium body jewelry to suit any wallet, ranging from the funky to the classically beautiful. Anodized metal is both scratch resistant and hypo-allergenic.
The bestselling Pink Flowers In Bloom Anodized Titanium Belly Button Ring is one of the most popular products for girls and women. The unusual design of a stylized flower is both eye-catching and feminine, while the rich color lends the metal a warm, coppery hue. With elements of golden-pink and iridescent bronze, it's easy to see why this is a favorite for young women.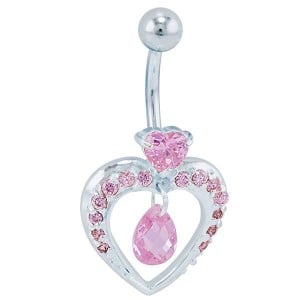 The Black Sexy Coiled Snake Belly Button Ring is ideal for women who want a more sophisticated look. The mottled texture of the coiled snake allows the metal to catch and reflect the light. The black, exquisitely crafted shape of the serpent looks so realistic that it could almost be expected to crawl over the navel. The teasing figure of the snake embodies sensuality, perfect for seductresses of all ages.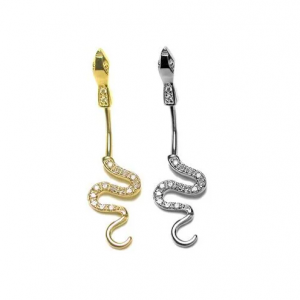 If you're looking for trendy, funky edginess, then the Rainbow Cute Skull with Heart Eyes Belly Button jewelry is what you need. This multicolored piece has a unique spooky charm and feminine heart-shaped eyes. Why limit this piece just to Halloween? A skull this sweet deserves to be displayed all year round!
For a woman who combines femininity with sophistication, look no further than the Violet Delight Heart CZ Belly Button Ring. This piece combines an iridescent violet-tinted titanium bar with two sparkling CZ gems. A deep plum colored teardrop stone is suspended from the bottom of a dazzlingly clear diamond-effect heart. It would be hard to find a prettier piece of navel jewelry.
If there's gothic angel in your life, why not treat her to the Black Guardian Angel Wing Belly Button Ring? With a pair of finely crafted black wings, each titanium feather shape visible, this piece is ideal for women who want to appear angelic – with a darker twist. A perfect accessory for any outfit.