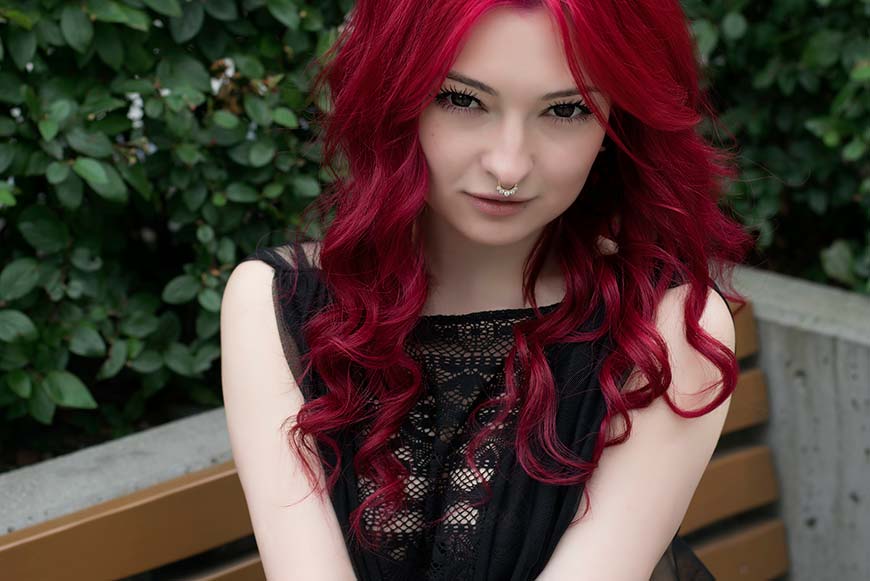 I love the boho hippie trend, mostly because I am a tattoo covered flower-child, and hello – make ALL the things lace and feathers. This rustic earth child look keeps evolving, and the results get more and more beautiful all the time.
I gotta say though, with my sleeve and gauges, sometimes I feel like my look is a bit too edgy to pull it off. Not so, as it turns out. Even with your badassery etched into your skin, and your piercings gleaming like so many spikes on a dragon's back, you can capture that ethereal look that seems destined for imps and pixies with virgin skin and dainty stud earrings.
Shopping's like half of what I do, so I put together this little montage for you to drool over. Warning: do not read with your wallet nearby.
Or do 😉
For Stretched Goddesses
I'm kind of in love with these tunnels – beautiful, natural, and understated. Pair them with some feathery dangle earrings and you're ready to roll.
I'm not really a fan of acrylic dangle gauges, but wooden and solid metal ones are always gorgeous. These organic sono wood ones are beautiful and untainted with harsh chemicals.
Gold tone everything is all the rage right now, and I just love the look of it. These plugs are gold toned surgical steel, so the price is low, and the metal won't mess with sensitive ears.
From Fierce to Feminine – Facial Jewelry
There are so many options out there for bling-y nose studs, but not many along the lines of that earth angel look so many of us are going for these days. This feather nose stud is in that beautiful rose gold finish that everyone loves so much, and really stands out from other nose jewelry.
I swoon for opals – what a beautiful stone. It seems to finally be coming around to being trendy, so I'm all over that. This is a septum clicker, so it's held in place mechanically, which I kind of love (no sliding around and being half in, half out of your piercing).
opal and 14kt gold labret stud
Here I go again with the opal – don't hate me. But seriously, the combination of gold and opal here (both genuine) is just stunning. This labret stud comes in a couple of different metals, but I'm particularly fond of the 14k gold with the light blue opal.
I've never really been a fan of eyebrow jewelry personally, but seeing this piece, I'd totally be on board with getting one of mine pierced. This sterling silver and turquoise shield-style eyebrow ring kind of reminds me of Tibetan jewelry styles.
Below-the-Shoulders Boho Body Jewelry
I feel like just because you're wearing clothes (I mean, probably), doesn't mean you shouldn't get to stylize your body jewelry that's south of your neckline. I've never had the cajones to get these piercings myself, but if you've been through the pain and delicate healing process, you should get to rock some fabulous jewelry.
Paisleys are wicked popular right now, and I love the intricate designs in these patterns. You see them a lot in henna tattoos, and I love that they're burgeoning into body jewelry too. This adorable rose gold finish belly button ring has little turquoise accents in the center of the paisley.
I'm completely obsessed with feathers – they're always in my hair, in vases around my house, I just love them. This crazy cute belly button ring has a beautiful copper finish too, another of my favorites. Are you digging this blatant list of my favorite things?
Arrows are really big in the patterns of today's fashion too, and as a bit of an archer myself, I kind of love it. If you're fierce enough to have your nipples pierced, these gold-toned surgical steel nipple barbels are a nice change of pace to the jewelry you might be used to seeing.
I have a nautical sleeve, so I'm always digging pieces like this that combine the girly and ornate with a little deep sea inspiration. These octopus nipple shields are gold plated surgical steel, so they're not too spendy either.
A Different Look for Every Mood
I know a lot of you can probably relate, but I get a lot of people thinking that my appearance on any one given day is a definition of who I am. She with the tattoos and the gauged ears, she must be a hardass. She must be just all edge, all the time. So not true. Even if you've cultivated a certain image for yourself with body modification, you can just as easily step into a whole new look if you choose, by accessorizing in different ways.
What are some looks you tend to flip flop between?