Plugs are my ultimate aspiration. Unfortunately, I have never possessed the patience for stretching my ears out. I've procrastinated getting them until I fear it may never happen. That's why I choose to live vicariously. I enjoy looking at creative individuals who have stretched their ears and stuck with it. Luckily, Instagram is full of gorgeous ladies who rock some seriously awesome plugs. I've compiled a list of my favorite looks from these girls. So without further ado, here are 30 girls who look drop dead gorgeous with (and without) plugs.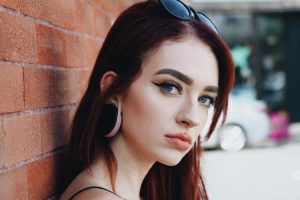 1. Billie
Billie keeps her look fresh by constantly changing up her hair colour, makeup, and body jewelry. One thing that stays the same is her stretched ears. 
2. Meghann
Plugs are an awesome accessory to add to any outfit, no matter how dark it may be. 
3. Reina
https://www.instagram.com/p/BabwjHVngeo
Plugs do not have to be boring. This lady knows what's up!
4. Steph
Can I just say that black and white filters instantly make a photo look twice as good?
5. Aimee
https://www.instagram.com/p/BYdgTLqhXak
Forever envious of how well people can take care of their stretched ears, no matter how big they are.
6. Xoe
Call me obsessed.
7. Izzy
https://www.instagram.com/p/BSjniOdFnw9/
I love these plugs because they blend in so naturally with Izzy's skin. It's magical AF.
8. Holly
https://www.instagram.com/p/BZ1bRwxjPKB
Because oval plugs are life. 
9. Caroline
https://www.instagram.com/p/_mCvU2L5FZ
Updos + plugs is such a classy spin on an alternative look. 
10. Ina
https://www.instagram.com/p/BXhrYzNFj8U/
Beautiful creatures. 
11. Agnese
https://www.instagram.com/p/BHW7DbTgavn/
Agnese's entire look is perfection. 
12. Laio
https://www.instagram.com/p/BRRBiW0AHkz
I really do like the earring/plug look. It's unexpected. More often than not, I'm sure people would rather opt for the lighter plugs without the extra glam at the bottom. 
13. Ronyah
https://www.instagram.com/p/BZlGHyaDiev
14. Alexx
https://www.instagram.com/p/BYLogFEhNYD
Another stylish example of gorgeous nude plugs. 
15. Lotte
Nautical style jewelry is super classic. 
16. Lizzi
https://www.instagram.com/p/BYQbUj9jWET
Black teardrop-shaped plugs? Absolutely in love. 
17. Kyra
This chick has the cutest natural freckles and the coolest taste in plugs. 
18. Lauri
Easy breezy beautiful. 
19. Tessa
https://www.instagram.com/p/BOTAgDcjvBZ
Glasses and plugs. Together, they're such an incredibly attractive duo.
20. Megan
Tunnels are awesome and classic and all, but I really love when girls go bold. These colorful plugs are everything. 
21. Bri
This photograph captures so many different forms of art and beauty.
22. Jess
Those plugs are the exact colour of a clear spring sky and I adore that. 
23. Shania
Come on. You cannot sit there and tell me that glasses and plugs aren't gorgeous as anything. 
24. Kristy
Those plugs seriously do something undeniably magical to this lovely lady's eyes. 
25. Kayla
I love the simplicity of this beautiful girl's plugs. She keeps it minimalistic and I love that!
26. Amber
https://www.instagram.com/p/BaaB5omDgXJ
This dimpled creature is simply incandescent. Her bright plugs complete the perfect picture. 
27. Nichole
I can't get enough of black and white photos. Nichole kills it with her entire look. 
28. Anna
https://www.instagram.com/p/BUCfg8JBk__
This girl really knows how to put an outfit together. I am super jealous of her skills. 
 29. Taylor
Why do I feel like she's staring into my soul? Regardless, I am in love with the way she portrays herself. 
30. Laura
https://www.instagram.com/p/BWatfiCAcyq
I wanna end with an utterly beautiful photograph of a girl named Laura smiling in black and white. I hope this picture is as inspiring to you as it was to me when I first happened upon it.