Back in 2009, an idea was sparked for Inktober by Utah-based artist Jake Parker. The original plan was to create a month-long challenge for himself to consistently draw things throughout the entire month of October. But soon, artists around the world began taking the challenge themselves.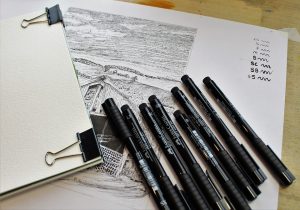 Artists would showcase their creative skills and draw one ink drawing every day in October. The idea caught on fast. Now, hundreds of thousands of participants eagerly show off their artistic abilities. Every year, Jake typically creates a list of 31 prompts which can keep the creative juices flowing. However, many artists tend to simply take this time to push themselves to create on a consistent basis. Whether they use prompts or not, the following images are fantastic. 
https://www.instagram.com/p/BZncR5Lhxy8
1. Branches
The logic side of me is bothered by the fact that the swing wouldn't be able to work properly due to the ropes being unevenly placed. The creative side of me adores how brooding and mysterious the whole image is.
2. Ink & watercolour
Talk about curls gone wild. 
3. Foxtails
This is an awesome take on my favorite animal. 
4. A gaping hole
https://www.instagram.com/p/BamdFgyAYqZ
I know the main focus is probably going to be the torn flesh in this character's back, but I can't help but notice how impeccably the hands and fingers were done. 
5. Graceful creatures
Dancing is for everyone! Even dystopian cyborgs!
6. Black & gold
The elegance and angles of all of this are truly fascinating. 
7. Armed & dangerous
https://www.instagram.com/p/BaT2YPJA-Xg
Something is just so soothing about watching artists create something out of nothing.
8. Vampire shopkeeper
This is all very Shakespearean. 
9. Linked
It's like you can feel the contentment radiating from their souls. It's all so pure…
10. Urban fire
From baking witches and farm witches to insect witches and mermaid witches, Paula Valiente created a different witch for every day of the month. Her urban witch was one of my faves. 
11. Beauty & the beast
This is such a fun take on the classic French fairytale. 
12. Reaching out
Again, definitely jealous of the gorgeously drawn fingers and hands here. I also really like the air of mystery evident in this piece. We don't know who is reaching out to whom. It isn't clear why they became separated. It's quite melancholic. 
13. Beautiful bones
Hauntingly beautiful AF.
14. Cat pile
Because who doesn't love a small mountain of roly-poly Pusheenesque cats?
15. Morning coffee
Grabbing a hot mug of coffee in your own kitchen is the best because it means you don't have to put on pants.
16. Unconventional
https://www.instagram.com/p/Baglg9vDk4F
Art isn't perfect. Art is messy, volatile, and unexpected… A lot like life.
17. Tentacles
https://www.instagram.com/p/BZ0-TWrlmED
Amber Arnoldsen opted for creating a person with (and occasionally without) a mask for every prompt. It was amazing to see how she chose to incorporate the words into vibrant masks for her characters.
18. Tousled
Bottled ships still confuse me to this day. How do they get there again? 
19. Dancing
Short, sweet, and simple #BodyPositivity
20. Cigarettes
I love how nonchalant this dude looks. I'm also sufficiently envious of his hairstyle…
21. Pennywise
https://www.instagram.com/p/BZ35XBUHIEp
Okay so maybe I'm just biased because Stephen King is one of my ultimate favourite authors, but I really love this piece of art.
22. Window view
Victor has many other exceptional drawings and portraits, but this one caught my eye. I really love all the details he put into the leaves, the bricks, and the crosshatching of this piece.
23. Fantasy
I love the blend of watercolour with ink. When done properly, it creates such an astounding effect. 
24. Severed
The most beautiful broken heart I have ever seen. 
25. Horns
I have to say, Rudoi has a gorgeous aesthetic. This piece is just one of many amazing works of his. If you've got a second, you may wanna peek at Rudoi's page. 
26. Brains
It's just a casual zombie dinner date. 
27. Dark beauty
https://www.instagram.com/p/BahDFoyneZa/
How delicious is this?
28. Shadows
Is it her own shadow or the shape of someone following her? 
29. Sunflower
This is genius. I feel like more people should wear flowers in their plugs. It's a nice touch!
30. Grapefruit
Confessedly, this picture makes me slightly uncomfortable and I have no idea why. Regardless of that, I still dig the image.
31. Determination
This is a brilliant reminder to all of us not to give up on what we dearly wish to accomplish. #IWillNotQuit