I'm a non-confrontational person; I love to smile, laugh, and…well, be Switzerland! What do I mean by that? Simple – I like being happy, so it should come as no surprise that I am relatively fascinated by a piercing that utilizes the base word of smile in its name, and is quite elusively placed.
The SMILEY Piercing. The Stumper. The Upper Lip Frenulum Piercing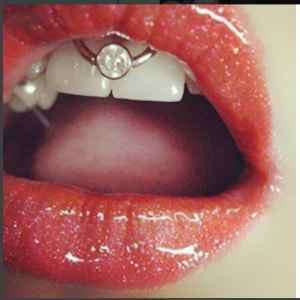 WHAT IS THIS PIERCING YOU SPEAK OF?!
Let me give you a bit of background surrounding this magical little piece of metal. Nestling its way into the upper thin layer of skin that connects the top part of your lip to the rest of your mouth and gums is where the Smiley piercing likes to call home.
UMMM, THAT SOUNDS LIKE A RIDICULOUSLY PAINFUL PIERCING!
Yeah, yeah, it does.
But alas – why would a piercing that references a happy action be associated with high levels of pain? Here's a little factoid to reduce your fears: turns out, this piercing is pretty low on the 'I-Need-A-Shot-Of-Tequila' pain scale, so long as you have a normal pain tolerance threshold.
That's right – even though the actual process of jamming a needle through the interior of your mouth sounds like a medieval torture tactic (although let's not kid ourselves, most all of our piercing processes sound this way to the outside population of the unpierced), it's quick, easy, and induces an immediate smile upon completion. Most note that the clicking sound of the needle pushing the piercing piece into place is the most traumatic part of the process. Yup – the bark is worse than the bite on this piercing.
BUT WHY SMILEY FOR THE NAME?
Well, my friends, after you have been gloriously pierced – after you have wiped the single tear that wants to roll down your cheek from fear, excitement, and really, from the awkwardness of the clamp keeping your lips out of Smiley's way – there is no stopping a massive, beaming smile from commandeering your face, and when that smile naturally unleashes its gorgeous powers, you have an amazing piercing that showcases a perfectly placed piece that can only be viewed when you smile.
The real magic? The only people that get to see this amazingly incognito piercing are those that make you happy.
Anyone else seeing unicorns and rainbows in their living room right now?
HOW DO I CARE FOR MY NEW BUDDY?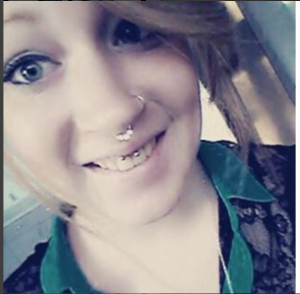 Now that you have been paired with your new bestie, there are a few things that you need to remember to keep smiling without infection and discomfort. Don't worry, this piercing isn't super high maintenance. Here are a few tips to get you started:
DON'T PIERCE YOUR OWN MOUTH…THAT'S JUST

DUMB

!

First off, there is no possible way to keep your upper lip up and out of the way while still managing to slide a needle through that tiny flap of skin underneath, so don't even try it. If your first thought in regards to this warning are, "But I have a buddy that can help…" – just stop with that nonsense. Save up the 30 – 80 bucks and go get it done correctly. No one smiles if you have puss and funk dripping from your mouth. That's just gross.
DON'T SHOW UP PLASTERED BY 'GRANDPA'S OLD COUGH SYRUP'!

Sure, alcohol can give you a temporary fearless attitude when contemplating whether we need a first, or even a new piercing, but there is good and sound rationale for why every tattoo and body piercing parlor on this sweet earth showcases signs that say, 'WE DON'T PIERCE THE

DRUNK

'! Heed the warning – this piercing will need some quality TLC. A couple six packs, a box of Chardonnay, and/or your friends Jack, Jim, and Wild Turkey suck at helping us remember important things.
BRUSH AND FLOSS YOUR TEETH REGULARLY!

Nope – no dental PSA from this gal! I don't care if you have strong enamel and fabulously healthy gums! Butttt,

smiley

sure does! Due to the placement of this piercing, there are a handful of inherent risks to the health of your enamel and gum line. Metal will inevitably be gracing the inner courtyards of your mouth for the entirety of your smiley piercing. Also, that beautiful piece will continuously scrape against your teeth, so make sure you keep up with some quality brushing and flossing.

Sucky teeth and gums = sucky looking smiley piercing – just saying. Which brings me to my next point…
KEEP YOUR LITTLE BUDDY CLEAN

When I got my tongue pierced, I carted an infinite supply of Listerine with me at all times. In fact, I'm pretty sure that I could have been a quality brand ambassador for their product during the early part of the Millennium. I had delightful smelling breath, but I wasn't really worried so much about that – I just knew that I had to keep the piece of metal that was jammed through my tongue clean and happy. Same is true for

smiley

– he needs to be kept clean and sanitary with some mouthwash, just the kind without alcohol. Turns out, alcohol makes the healing process take quite a bit longer. Here's what a slew of piercing studios recommend:

H2Ocean
For those that are constantly positive and emit good juju, energy, and great vibes – the smiley piercing is a fitting addition to your look. He's cute, he's fun, he's incognito when you need him to be, and he's FRESH!
Pair him with a captive bead or pair him with a horseshoe barbell. Let FRESHTRENDS help you adorn a magically secretive and fiercely fun piercing with something that shows your fresh outlook on life!
Interested in really blowing minds with this incredibly unique and striking piercing? Try something individual, luxurious, and bejeweled from our KIWI DIAMOND line. #BeYou#BeFresh#BeKiwi#BeSmiley