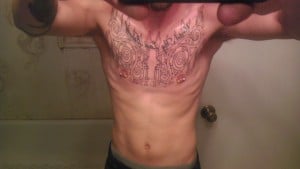 I'm not a Nance when it comes to pain – I can take a lot. But even someone who's had a natural childbirth can look at a piercing and just cringe, and that's definitely what I do when I toy with the idea of getting my nipples pierced.
As much as I love the look of this piercing, I've never been able to bring myself to get it done, however fleeting the pain may be. Part of it is because my husband, my number one guy, had his done, and I've heard him talk with a shudder about the process.
For those of you eyeing the wild side of nipple piercings with some curiosity, here's a firsthand account from a man, on just what you can expect from this type of piercing.
First off, I just have to know – you did this before we got together – what made you decide to get your nipples pierced?
I was at Panama City Beach in Florida on spring break my senior year. Not really sure why I chose to get my nipples pierced for my first piercing, probably because it would be easy to hide from my parents.
Ah yes, a man after my own heart. In hindsight, did you feel like you picked a reputable piercer?
There wasn't much looking around for a good place to go. A few friends and I were feeling rather daring so we picked a nice looking shop – seemed to be a good place, very professional. I assume them got lots of crazy folks in there wanting something on a whim and handled it well.
Be honest – what was the pain like?
Worst pain i have ever felt, until they pierced the other one.
Eeeeyikes. Were you able to get them pierced at the same time?
I think they could have done them both at once if there were more piercers available.
Since you were at the beach, were you able to go in the ocean right after having them done?
I could go to the ocean right away, but it was a little chilly, and when my nips got hard the pain returned.
Oh man, I never would have thought of that, ouch. So how was the healing process?
They healed pretty well. I kept them clean with a salt water rinse and left the jewelry alone for awhile.
What jewelry did you find most comfortable? 
I personally liked the barbells with smooth round balls on the end. Make sure you get some that fit well – you don't want to squeeze your nipple with a too-small piece of jewelry, and you don't want a lot of extra hanging past the nipple.
So how long did you wait before you changed your jewelry?
I waited about a month. The shop put captive ball rings in when I got them done – those were hell trying to change with sensitive nipples.
Do you regret getting your nipples pierced at all?
No, it built character. If I could stand that pain, I figured other piercings and tattoos would be a breeze.
So with our little almost-two-year-old running around, I'm sure other parents want to know, any challenges with having nipple rings and a toddler?
I try to not bring attention to them, he would definitely grab and pull if he noticed them. He only gets curious if I'm running around without a shirt on, so I try not to do that too much.
So when it was all said and done, were there any complications from the piercing in general?
The summer after I got them done, I went to Warped Tour. It was hot as balls in Indiana in July, so I took off my shirt. There were lots of people running around, and I wanted to get close to the stage, so I took my nipple barbells out so I wouldn't get them snagged slipping through the crowds. they were not easy to get back in, even only after being out for a few hours. Later on that year i noticed lots of crusty stuff on my left
They were not easy to get back in, even only after being out for a few hours. Later on that year I noticed lots of crusty stuff on my left nipple, and it looked like my nipple was getting smaller. I ended up taking my left one out and letting it close up, with no long term damage or pain. I still have my right one in, but I haven't changed it in probably 5 years. For me, if i just leave it alone, everything is fine.
Any words of wisdom for people that might be considering getting their nipples pierced?
Always be careful about things catching on them. I learned the hard way to be careful when I'm wearing headphones at work. I usually run the cord under my shirt to keep it out of my way, but then found it snags on my nipple ring, so I make sure I'm wearing an undershirt now if I do that.
Nipple Piercings – Not for the Faint of Heart
There you have it – what I'm sure you already suspected. Nipple piercings are the mark of a body modification warrior in my book, someone who rose above the pain to do something culturally defining for themselves. Or in my husband's case, did something on a whim on a wild high school spring break.
This is a piercing that requires some delicate aftercare, and a constant awareness that they are there, so you don't risk catching them on something.
Next I'd like to interview a woman who's had her nipples pierced, and as a nursing mother myself, particularly one who has breastfed after having their's pierced. If you know someone, let us know in the comments below!
*Disclaimer: This is a first hand account of someone who went through the experience of piercing their nipples.  Pain and healing will vary person to person.