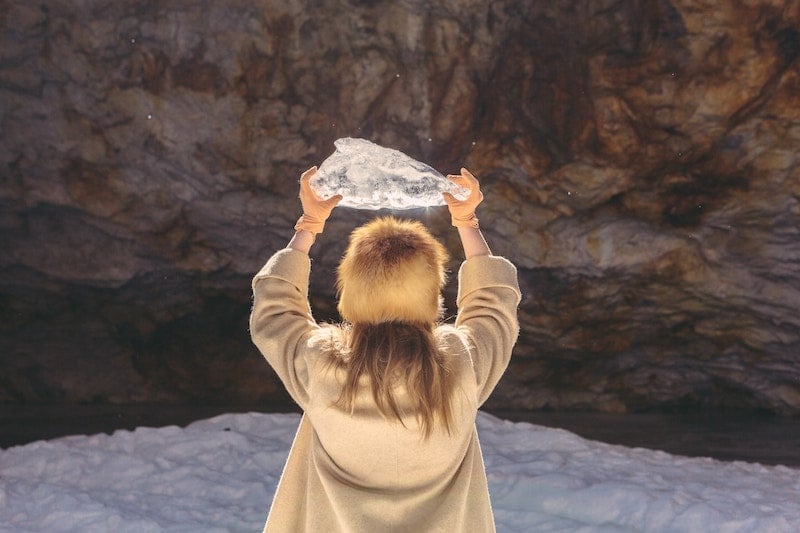 Groundhog's Day is fast approaching, which means that we'll soon see whether we're in for an immediate warm spring or six more weeks of winter.

Whether or not the groundhog decides to leave his den or hide away for a few more weeks, the end of winter and the beginning of spring often spell trouble for your wardrobe. How are you supposed to dress when you're enjoying the sunshine and warm weather one day, and the next you're wrapping yourself in winter gear once more?

Choosing body jewelry can be similarly frustrating. Should you bring out your floral studs or stick with your darker gemstones and other wintery jewelry choices?

Instead of choosing between your winter and spring wardrobe, why not choose jewelry options that capture both? Here are some jewelry ideas for that tumultuous time when it does not quite winter and not yet spring.
Wear diamond or cubic zirconia flowers
Nothing screams spring more than flowers. But, if a flower blooms too early, it runs the risk of wilting away after a late-season cold snap. Just like real flowers, you might regret it if you bust out the floral too soon.

Capture the best of both winter and spring by choosing a diamond or cubic zirconia flowers. The clear gemstones are reminiscent of crystal clear ice, while the flower shape serves to remind you that warm days are ahead. You can wear your clear gemstone flower no matter the weather without standing out too much. And, you'll look super cute when you do.
Go for basic bling in your belly ring
With the promise of warmer days ahead, you're probably tempted to bust out those crop tops. But, you shouldn't get too overexcited; you don't know if there's a rainstorm ahead that might make you regret your fashion decision.

To play it safe, you should probably only show a small sliver of your belly until springtime has fully set in. To help your style stand out, choose some dainty bling to go in your belly piercing with a simple gemstone or diamond in a non-dangle belly ring. You'll get to enjoy a taste of spring fashion without getting too cold, and your belly piercing will still get to sparkle and shine.
Pretend it's spring with cute charms
There's a theory that says that if you dress for the weather, the weather will come. Now, this might not be scientifically sound, but there's no reason why you can't show Mother Nature how much you're hoping for spring by sporting spring-themed charms in your ears, lips, or nose.

Choose a cute butterfly nose ring or get a little flare from the sun in your cartilage. If you think springlike thoughts, who knows? Maybe the spring weather will follow.
Choose deep-colored gemstones
While winter tends to be the time for blacks, greys, and darker colors, spring is the time for pastels and bright colors. For the in-between time around Groundhog's Day, find a happy medium with deep-colored gemstones.

A dark purple or alluring sapphire will exude the colorfulness of spring while adhering to the darkness of winter, so you can wear colors that will look great whether the day turns grey or releases the sunshine.

Fashion can be difficult when the weather is unpredictable. Play it safe and find jewelry that will match the day, even if it goes from rain to shine in an instant.