If you're amongst the many who have fully embraced the rose gold trend, I feel you. Rose gold is a gorgeous and unique color. And there's a myriad of rose gold body jewelry to take advantage of. To assist in staying on trend, I've selected the hottest pieces from among our own 14k rose gold styles. Because we understand the awesomeness of this fabulous color. More than that, our rose gold collection comes only from within the United States. Each piece is hand-crafted with precision from 14k gold and completed with a gorgeous rose-gold finish. We source the highest quality of materials and stones from within the country.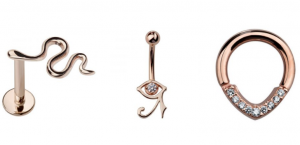 Since rose gold is quite a popular color in many different styles, I've categorized them for easy selection. Whether septum rings, nose rings, or labrets are your preference, we've got something for everyone. 
Rose gold as a septum is a great way to stand apart from your peers. Silver is probably the most common metal for septums, with gold or gold-plated as runner up. However, rose gold is quickly catching up to those contenders. Be ahead of the game and pick out a dreamy rose gold septum ring from our collection. 
Rose Gold Nose Rings
Make your nose ring extra fabulous by grabbing one of our rose gold nose rings. We have the most common nose ring styles available in 14k rose gold: bone, twist/screw, fishtail, and hoop. Each style of our rose gold nose rings is hand-crafted and made to order with your own personal specifications. 
Rose Gold Labrets
We have a solid collection of high quality rose gold labrets. Labrets are short, flat-backed barbells. They are internally threaded. These sorts of pieces work perfectly in lip, cartilage, and tragus piercings. Additionally, they are gaining popularity nestled in upper cartilage and helix piercings as opposed to short, ball-backed barbell jewelry.
With crop tops continually on trend and summer heating up, a rose gold belly button ring would go perfect with your wardrobe. Amongst our extensive collection of hand-made and customizable rose gold belly button rings, we also have a very special one. Inset with your birthstone and genuine diamonds, you can select your own unique style of our Daisy Diamante Diamond Birthstone 14k Rose Gold Belly Ring. If you'd prefer something more lowkey, we have plenty of other pieces to fit your taste in fashion. 
Rose Gold Daith Jewelry
Various piercings rise and fall in popularity. Currently, the daith piercing is having its day. Keep up with your friends' style by fitting your daith with a beautiful, hand-crafted rose gold daith piece. From daith clickers and hoops to more standard barbell styles, we have a plethora of daith jewelry. Our entire selection of jewelry is handmade and produced in the United States.