Tattoos in general have seen a social revival over the decades. What was once a deep-seeded cultural norm went from historically relevant, to being extremely taboo, particularly among women. Tattoos were seen as a sign, somehow, of a lesser person, with stunted intelligence and poor decision-making skills.
Over the decades, slowly, that perception has shifted, and we're now seeing more widespread tattoo acceptance than ever before. Particularly in the digital age, when so much work can be done without ever setting foot in an office environment, people are realizing that a person's appearance is no longer exclusively indicative of their character or ability to get a job done. The generational divides are coming down, and more people than ever are getting tattooed, and not giving a damn what people think about it.
The one exception to this rule (well, two if you count facial/neck tattoos) seems to be relationship-based tattoos – couples tattoos that are gotten together, designed collaboratively between a pair as a sign of commitment and affection for each other. What should be a wildly romantic gesture of devotion has been characterized as cheap and shallow, by a populace that deems it more normal and acceptable to buy each other diamonds to prove their love to one another.
One isn't necessarily wrong either way – it's nobody's business how you choose to express your love – but you can't help but throw a big irony stone into this glass house – it's just asking to be broken.
The bottom line is this – if you feel like a couples tattoo is a personable and meaningful expression of you and your partner's love for one another, then do it. Screw what people think, screw what they're going to say, because they don't know you better than you know each other, and that's a fact.
Whether your style is a classic nude pinup with her name below it, or a minimalist black wedding band, do what feels the most like you, and f*@k the rest of it.
Besides just deciding in general not to give a shit about what people think, couples tattoos have really evolved in the past five years, with some truly beautiful and unique design ideas that are making me kind of wonder if it'd be overkill to want a lover's tattoo AND a wedding ring.
I mean shew, that's not unreasonable, is it?
Anyway, they really are just stunning. I combed the web for as many pictures as I could find to show off some prime examples. If you're thinking about getting a couples tattoo with your significant other, take a stroll through this gallery and tell me what you decide – I want to see pictures!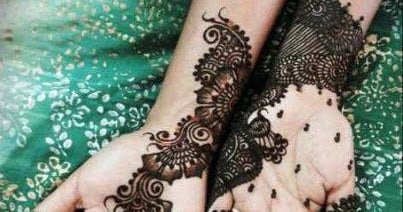 This is actually a henna tattoo, so it's not permanent, but I'm still in love with it. In Hindu culture, it's traditional that the bride have her hands and feet tattooed with these intricate patterns for her wedding day, and also for religious events and festivals. It's a beautiful art, and the intricate designs are being replicated in many traditional western tattoos these days.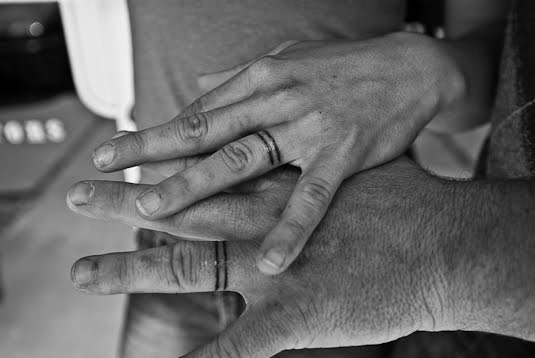 Wedding band tattoos are perhaps the most popular couples tattoo these days, and the possibilities are really endless with the route you can go. Even the US military has recently adjusted their tattoo policy to accommodate this growing preference among its enlisted members. Wedding ring tattoos are also a fantastic option for people that work with their hands, in professions where wearing a wedding ring is hazardous to their safety.
This article from Inked Magazine had some really great couple tattoo ideas – they were kind enough to share them with us here:
Long gone are the days when all anyone does it get their lover's name tattooed on their sexy bits – these ideas are classy, cute, and fun, and allow you to showcase the unique parts of your personality that make you such a wonderful fit for each other.
Don't let what other people think hold you back from your wildest ideas, because they're often your best – a couples tattoo is more than just a sign of your love, it's a milestone in your life. Even if the relationship doesn't last, the people we love leave marks on our hearts that are there long after they're gone – having a tattoo from that love just symbolizes your acceptance that even heartbreak is a part of you.
Throw caution to the wind, and let love leave its mark on you, and wear it proudly for all to see.