I got my first tattoos in a small shop an hour's drive from Cape Town, South Africa. But before I got those tattoos, I got a couple more piercings to add to the nine I already had. The woman who pierced my tragus and septum (and who would later tattoo me) was very chill and laid back. She put me completely at ease. Her name was Karin Mostert. Aside from doing tattoos and piercings, Karin also sold tattoo aftercare products and additional body jewelry.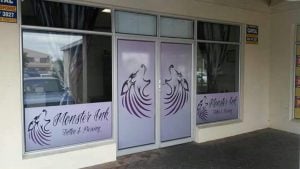 "I had to learn how to hurt somebody without hesitation before I could start to tattoo," explained Karin when I asked why she began piercing. She has been a professional piercer for eight years. She did her internship with Jacques from Ink 'n Steel at first. Later, she worked with TMI Body Art. Now she owns and operates her own shop, called Monster Ink. In the morning when she heads in to her shop, she always makes sure that her tools and shop are organised. She ensures that her equipment is sterilized and ready for use. Opening the curtains and putting on her music, she's ready for her customers.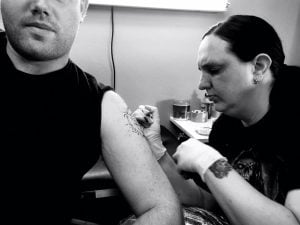 Piercing is no simple task. In some areas of the body, it's very easy to make a mistake. Professionals know where exactly to pierce so as not to damage any nerves below the skin. "I use sterile high quality equipment and body jewelry," detailed Karin about her process. "It's crucial to make sure the placement of the piercing is correct and possible. Educating clients on aftercare is also an important step in the process. When I first began piercing, I was stressing a lot about the possibility of messing up a piercing. These days, I don't worry so much. Only if it's a difficult piercing that I do not do very often."
Despite being both a professional piercer and tattooist, Karin admitted that she has many more clients seeking tattoos rather than piercings. In addition to finding images and designs that fit the clients' needs (I just wanted a trio of small shapes, a keyhole, and a crescent moon. All were easy shapes to draw up), Karin is also a highly skilled artist. She often designs images from scratch in order to meet her clients' requests. The images within this article are all examples of such skill.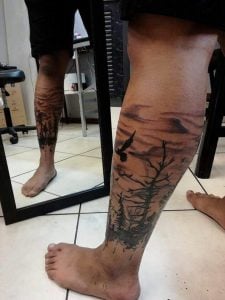 Out of all the different clients she may see in a day, Karin prefers the chatty and friendly ones who "know what they want". The first body mod Karin ever got was a tattoo of an eagle on her lower back at the age of 25. Since then, she has accumulated many more. "People should just go for it," Karin advised about those considering new tattoos or piercings. "Life is too short to sweat over the small stuff. And don't give up," she adds, speaking about people pursuing this career. "It's all worth it."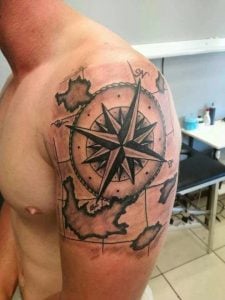 "I always wanted to become a vet," Karin mentioned when I inquired about her past. "But I didn't make the selection process. So anything where I can work with animals I will be very happy. But I still believe I ended up where I am suppose to be. I love where I am at… Tattooing and piercing can be difficult at first. But the best part is after the ink or body jewelry is on the flesh. That satisfying moment when you see your customer's face when they look at their new piercing or ink and loving it…" she gushed. "It's very rewarding!"