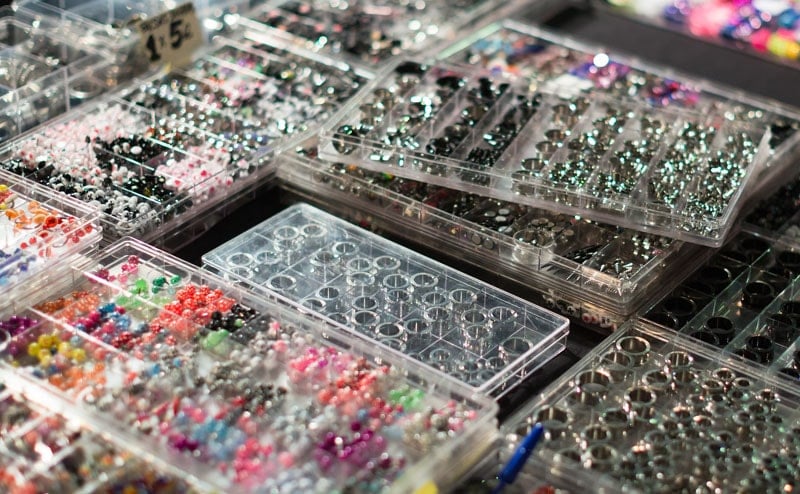 Here at FreshTrends, we love great body jewelry, but more than anything else, we love it when people wear it without running into problems. Healthy piercings are hot piercings, and inflammation and infection are never pretty.

In the past, it wasn't uncommon to see piercings adorned with safety pins, paper clips, and other non-jewelry materials. When people start sticking anything in their piercings, it's easy to assume that it doesn't matter what materials you put in your body. (Spoiler alert: it does).

Whether it's food or jewelry, you always need to be careful about what you put into your body. Using proper materials is especially important for healing piercings, but it's always a good idea to be aware of the materials that you expose your body to.

The APP (Association of Piercing Professionals) lists 7 materials appropriate for new piercings:

Surgical steel (in a grade appropriate for piercings)
Titanium
Niobium
Gold (that's nickel-free)
Platinum
Biocompatible Polymers
Glass
Once your piercing has healed, you'll be able to expand your materials to include organic body jewelry (including wood, amber, opal, and other materials naturally provided by Mother Nature), acrylic and silicone options, and sterling silver. 

Here's a rundown body jewelry materials, from meh to amazing!
11. Acrylic
If you're looking for colorful choices, acrylic provides an inexpensive option, especially for those who are in the process of stretching their ears. Since you have to increase the gauge of your jewelry every few months as you stretch, cheaper acrylic is a great choice until you reach your preferred gauge and can choose more permanent jewelry options.

Acrylic jewelry is available in all sorts of jewelry styles, but keep in mind that it's not created for long term use.

Pros
Cons
It's fragile. This type of jewelry is easily scratched and cracked, so be sure to treat it gently. Otherwise, you risk creating little nooks in your body jewelry for bacteria to build, increasing your risk of infection.
It cannot be autoclaved. This type of jewelry is very sensitive to temperature extremes, meaning that any form of heat sterilization is out. You can rub it down with small amounts of alcohol or peroxide, but keep in mind that these materials are also corrosive, and that plastic is susceptible to breakdown as a result.
It cannot be used in healing piercings (since it can't be autoclaved).
10. Silicone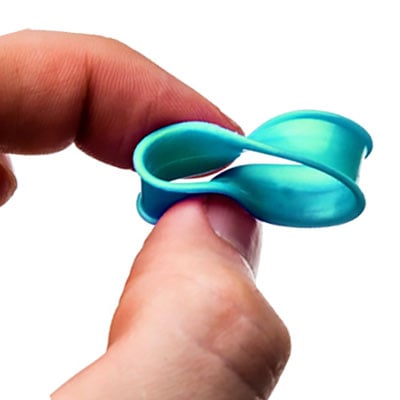 Unlike acrylic, silicone is biocompatible, making it a little higher quality in terms of plastic options. However, plastics, in general, aren't great for body piercings. If you have metal allergies, try out hypoallergenic metal types or another material, instead.

Pros
Cons
It should only be worn temporarily.
Its flexibility means that it could auto-stretch your piercing, leading to tearing.
It tends to suction to the piercing, blocking natural seepage, which could lead to infection.
It's not low maintenance; you will need to make sure that the jewelry stays clean and dry at all times.
9. Bioplast
Bioplast is a synthetic, flexible material that is available in a variety of designs and colors, and is completely hypoallergenic and biocompatible. The term bioplast combines the words "biological" and "plastic," and pretty much describes its purpose as a synthetic material that works well with the body.

This material can be sterilized in an autoclave and is perfect for fresh piercings that need some time to heal. It's designed as a plastic that's nicer to the body than other plastic materials, like acrylic.

Pros
It's APP-approved for healing piercings (although many piercers might still recommend metal).
Bioplast is specifically designed to be friendly to your body.
Cons
It's not meant for long term wear.
It has many of the pitfalls of other plastic options, including blocking seepage, which could make your piercing stink.
It scratches easily, creating grooves that catch bacteria, which could lead to infection.
8. Silver
Silver is a popular metal in all types of jewelry, but even though it's considered higher quality, it doesn't make great body jewelry pieces.

Silver is one of the more impure metals out there, with most jewelry consisting of a blend of various alloys, which more often than not, contain copious amounts of the notorious metal allergen nickel.

For small gauge nose rings, silver is usually okay, but anything other than that, you carry a pretty significant risk of having an unpleasant reaction.

Pros
Sterling silver is often less expensive than white gold.
Cons
Silver is usually very impure, which can cause allergic reactions.
It tarnishes easily, so it will need a lot of attention.
7. Organic materials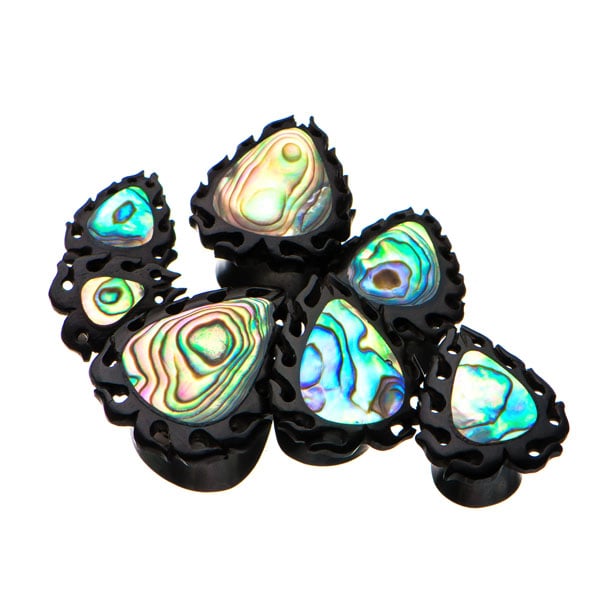 Organic materials like bone, horn, wood, and stone make aesthetically unique pieces. These options are great for those who love a more earthy vibe.

Organic materials are also more eco-friendly than plastic and metal options, so they're perfect for those who want an Earth-friendly style.

However, many of these materials are porous—which can collect bacteria—and some are treated with chemicals that can be harmful to a healing piercing, so you should wait until your piercing is fully healed before choosing organic jewelry.

Pros
Organic materials are environmentally friendly.
They offer a unique aesthetic.
They're often hypoallergenic (although some may be treated with chemicals that can irritate your skin).
Cons
Porous materials can't be easily sterilized, so they tend to harbor bacteria.
They're unsafe for new piercings.
6. Glass
Glass is actually an APP-approved material for healing piercings. It's easy to sterilize, its smooth surface makes it great for healing, and it has a nice soothing, cool feel to the touch.

However, glass is delicate, and it could chip, which might cause damage to a healing piercing. Glass can also break in your piercing, so although it's comfortable for healing, it might not be great if your piercing is in an area that sees a lot of action.

Pros
It's approved for new piercings.
You can get tons of fun colors, styles, and designs.
The look is a little more unique than metal varieties.
Cons
It can break.
It's heavy, which could be detrimental to new piercings.
5. Surgical Steel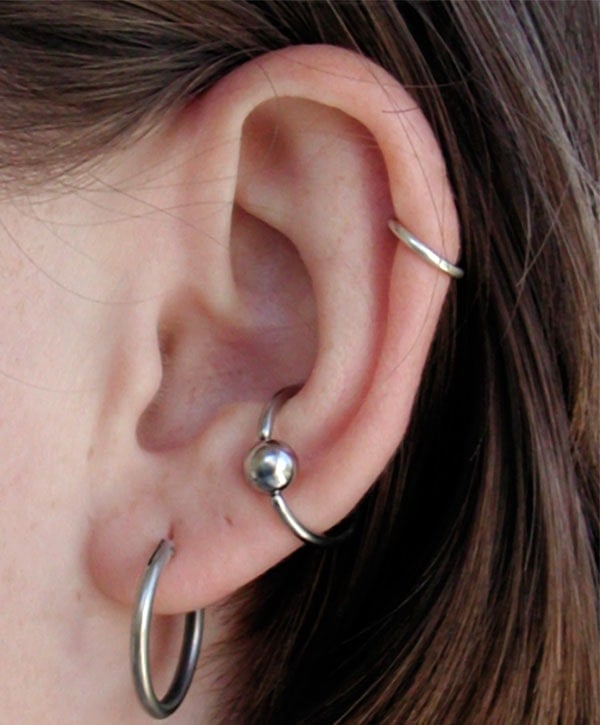 Surgical steel is highly popular in new piercings for its medical standards, it's affordable, and it adheres to APP standards. However, not all surgical steel is equal, and you need to make sure that you use a grade that's safe for fresh piercings; some surgical steel contains alloys, like nickel, that can irritate the skin.

Pros
Surgical steel is used by medical professionals specifically for use in the body, and it's a common material in bone implants, so you know that it's generally safe for internal use.
It's cheaper than other quality metal options.
Cons
Not all surgical steel is the same. You need to make sure that the surgical steel that you use is safe for piercings.
You need to be careful when choosing the steel in your body jewelry, especially for new piercings. It's not always a foolproof metal.
4. Niobium
Niobium is incredibly similar to titanium, but it is slightly heavier and more expensive. Like titanium, it can be anodized to produce different colors, and it doesn't react to body fluids, so it's biocompatible. Additionally, it's naturally more pure, so it's hypoallergenic.

Since it acts similarly to titanium, it is growing in popularity as a body jewelry material, however, since it's more expensive than titanium, most piercers will recommend titanium over niobium.

Pros
It's free from harmful alloys.
It's approved for new piercings.
Cons
It's almost the same as titanium, but it's more expensive, so the cost often isn't worth it.
3. Titanium
Titanium is probably the most common metal type used in new piercings. Titanium is one of the highest quality metals you can put in your body with very few allergens and a metal purity that makes it perfect for everyone.

One thing that's interesting about titanium is that it can be colored in a safe and biocompatible way. Even though the color will fade, it will not affect the wearer adversely.

Pros
It's one of the purest metals you can find for your body piercing.
It's less expensive than other high quality metals, like 14k gold and platinum.
It's great for healing piercings.
Cons
It's not considered as high quality as precious metal types like gold and platinum.
It's more expensive than surgical steel.
2. Platinum
As the most expensive material on this list, platinum isn't often seen in body jewelry, but it does make fantastic pieces for long term wear.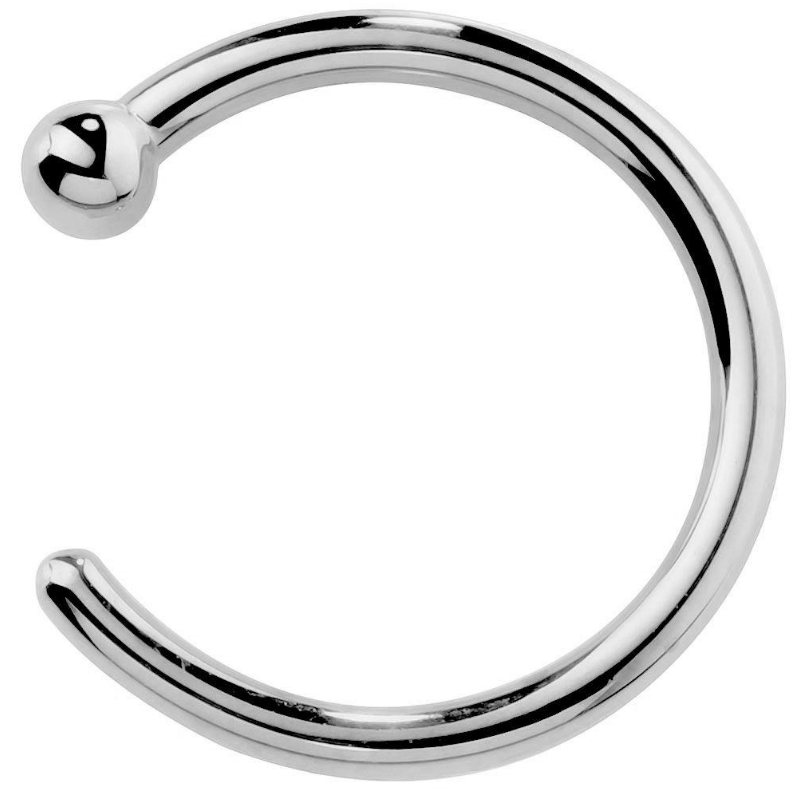 Platinum is incredibly durable, which has lead to its recent popularity in wedding rings. It requires less attention than gold, and it's a fantastic metal for jewelry that you plan on wearing every day. Platinum is also more pure than gold; the lowest quality platinum must be at least 50% platinum, and the majority of platinum jewelry pieces contain at least 85% platinum (whereas gold jewelry—typically 14k or 18k—contains only 58.5% gold and 75% gold, respectively).

Pros
It's probably the most durable material for body jewelry.
It's incredibly pure.
It's approved for new piercings.
It's strong enough for daily wear.
Cons
It's quite expensive.
It's not incredibly popular as body jewelry material (since it is so expensive), so it will be harder to find platinum body jewelry.
1. 14k Gold
We love gold here at FreshTrends, and for your body jewelry, it's more than a gorgeous material; it's probably the best material that you can choose for your piercing. 

When it comes to metals, you generally get what you pay for—the higher the grade of any metal, the purer it's going to be, and the fewer alloys and potential allergens you're going to have to worry about. 14k gold is a strong, durable metal that tends to work well with our bodies' chemistry, so long as what you get is nickel-free (like all of our gold pieces).

For healing piercings, you should always opt for at least 14k gold, since it will have fewer alloys than lower quality gold. Additionally, you should choose yellow or white gold initially, and you can switch to rose gold once your piercing has fully healed. If you choose white gold, make sure that it contains no nickel; some jewelers choose to mix their gold with nickel to achieve the silver tone.

Pros
14k gold and above is hypoallergenic (as long as it doesn't contain nickel).
It lasts a long time.
It looks amazing, and it can be worn to classy events as well as for daily wear.
It's comfortable to wear.
Cons
It's more expensive than other metal options.
It will need to be professionally serviced every few years.
Gold will scratch, so you need to store it properly.
When it comes to choosing the perfect body jewelry piece, you need to make sure that you treat your body to fine materials instead of simply choosing the cutest look.

At FreshTrends, we don't think that you have to decide between treating your body well and amassing an enviable jewelry collection. This is why we only offer 14k gold and platinum body jewelry pieces—the best body jewelry materials you can get. We also have the most unique, custom-made items that you can find, and you can even reach out to us to talk about designing your very own body jewelry piece.

Shop 14k gold and platinum body jewelry
Every piercing deserves the best materials. Shop our 14k gold and platinum collection, and find the finest body jewelry that your piercing and wallet will love.