Body piercings will make most non-pierced people think of one of four places: the bellybutton, the nipple, the genital area, and of course the face. But if you want something a little bit different here's some unusual body piercings to check out. These are called surface piercings because they don't go in one side and out the other like the ear, nose, bellybutton, etc. If you get a surface piercing be sure to go to a professional that has the special surface bar – these ones are especially easy targets for infections.
1. The Chest Piercing
From a simple barbell to a full-on corset, chest piercings have gone far beyond the nipple.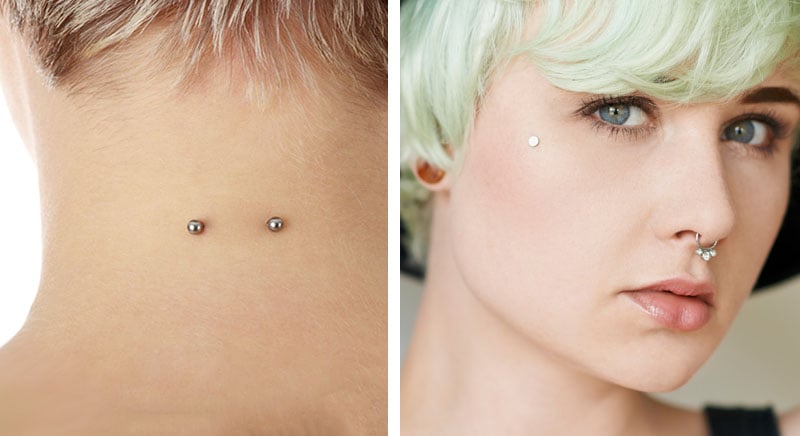 While the corset on the back has been getting more and more popular, it's not seen as much on the chest.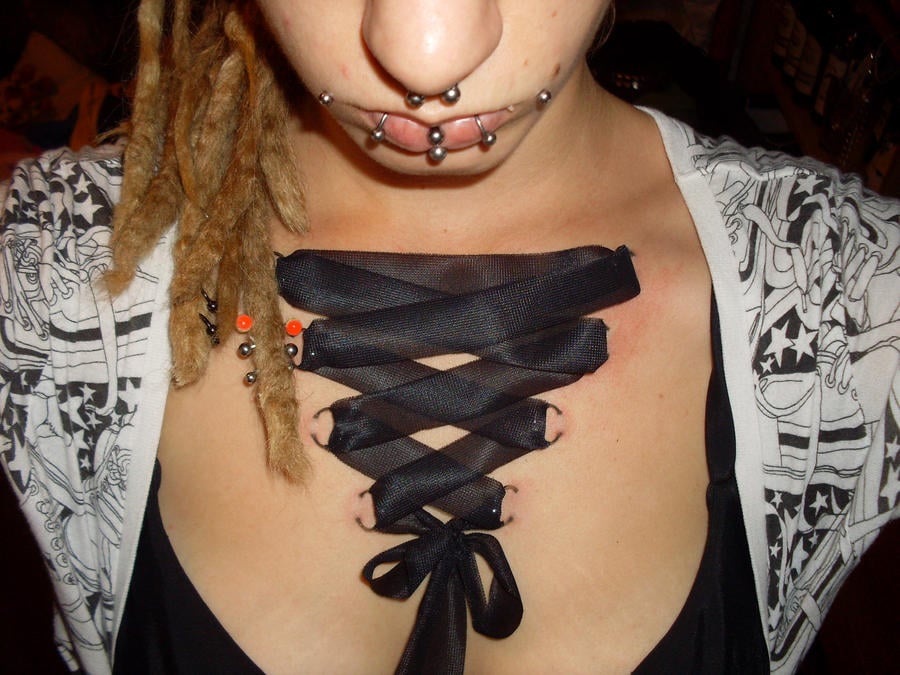 A little bit higher on the chest, the collarbone piercing is more beautiful and more permanent than any old necklace.
2. The Neck Piercing
I'm a fan of neck piercings on the back of the neck. The neck is a big time erogenous zone, and a nice barbell brings the eye to this elegant area of the body.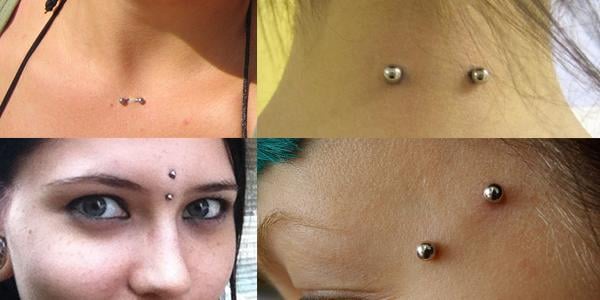 If you really want that shock factor, piercings on the front of the neck definitely will bring it … to be honest I'm a little freaked out by some neck piercings like this neck corset. When you learn any kind of self-defense, you learn that you need to protect ya neck – it's a basic instinct – maybe that's why I get a little queasy about doing anything to the front of my neck.
3.  The Leg Piercing
Speaking of corsets, here's one I hadn't seen before – the leg corset. This one must take a lot of care to make sure it doesn't catch on anything, since the legs are what moves us around.
4. The Foot Piercing
It might be easier to get a foot piercing a little further up like this one – no worries about your shoes getting in the way 😉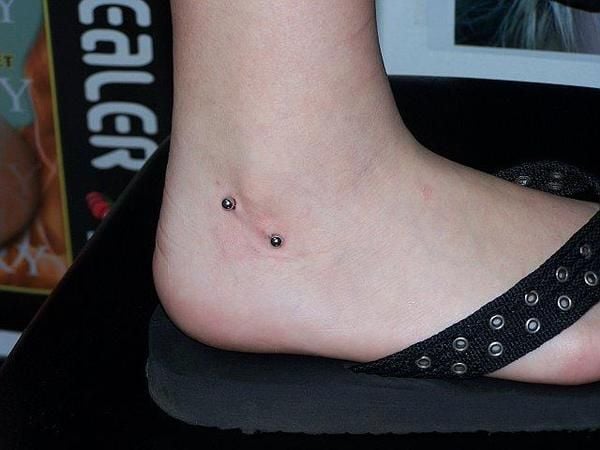 5. The Hand Piercing
There are lots of options for hand piercings, you can even get a piercing as an alternative wedding ring. A surface piercing on the side of the hand is definitely different – I like this symmetry of this one on both hands.
6. Butt Piercing
Last but definitely not least! The butt piercing! Okay let's keep it clean here folks, this is at the top of the butt crack.
The options you have for surface piercings are as limitless as … well, the entire surface of your skin, really. If you have a surface piercing send your pics to [email protected] and we'll post it up.