A brief googling of "when did septum piercings become popular" brings up a slew of results. Some comparing this trend to different cultural traditions to male cows to hipsters. One article claims that septum piercings are exactly the sort of craze that "you won't want your daughter to follow". Hmm. Thinking emoji.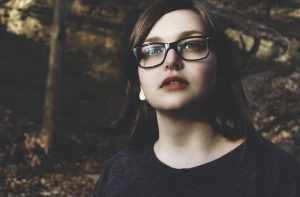 I actually remember reading that piece back when I was considering getting my septum pierced. In the article, the writer actually sets off on her own and documents how it felt when she got it pierced. With adjectives such as "sickening" and "painful" and verbs like "crunch", "twitch", and "churn" in place, it was definitely an interesting article to skim. 
I got my septum pierced in the early part of 2016. It really is true when people say that piercings and tattoos hurt differently for everyone. My septum was my tenth piercing (if you wanna count the double earlobe ones). I was prepared for the pricks, the pokes, and the pain. But I only felt a small pop. Of course, my eyes streamed. As they did for both my nostril piercings. As nose piercings are prone to do since it messes with your tear ducts somehow. But it really didn't hurt. And it's not just because I've had several piercings. Even people who are scared of getting a pierced claim that getting their septum pierced practically didn't hurt at all. The trend has flourished well. So now here is a list of 23 different stunningly gorgeous people with septum piercings (in no particular order) that will make you want to join in on the trend yourself. And for those who are wondering: none of the following septum piercings are clip-on jewelry. You're looking at the real deal. 
https://www.instagram.com/p/BXkFqAdhZAb/?taken-by=ritikadass_makeupartist
https://www.instagram.com/p/BQtxVnFhynA/?taken-by=parissinclair
https://www.instagram.com/p/BXyUcpflYaP/?taken-by=giulia_juliett_sasha
https://www.instagram.com/p/BXE9MnhgpAl/?taken-by=carrinaan
https://www.instagram.com/p/BUZPAHRlFY3/?taken-by=_manta
https://www.instagram.com/p/BXDMuwbDEBW/?taken-by=ju_amb
https://www.instagram.com/p/BOM-2mdD3jY/?taken-by=sweetfurball
https://www.instagram.com/p/BX0XdOgg79Z/?taken-by=fl0wergrrl
https://www.instagram.com/p/BPNjzM3gaLG/?taken-by=jandreabocelli
https://www.instagram.com/p/BXOYhVSBIwr/?taken-by=d_haiiro_ookami
https://www.instagram.com/p/BXqPL5vAZ_i/?taken-by=mrjscrazyquinn
https://www.instagram.com/p/7ntZtjL4GC/?taken-by=fvdedfairy
https://www.instagram.com/p/BXLkyWynxcf/?taken-by=misbjoern
https://www.instagram.com/p/BQX_uV1jedM/?taken-by=empressofshimmeringmoons
https://www.instagram.com/p/BVpG1wHjE10/?taken-by=billiedawn.webb
https://www.instagram.com/p/BX3dQ4EhOK9/?taken-by=ashonwool
https://www.instagram.com/p/BXA-WhVlXMX/?taken-by=kingston.lynda
https://www.instagram.com/p/BX3Yrnlla6q/?taken-by=praedonum
https://www.instagram.com/p/BX3XuQdh9LH/?taken-by=paulinabirbach
https://www.instagram.com/p/BX3Up4OAp0r/?taken-by=goth_fae
https://www.instagram.com/p/BX3TAXlAF5X/?taken-by=cutiepie_pengu
https://www.instagram.com/p/BX3QABdjly0/?taken-by=beautifully_deformed
https://www.instagram.com/p/BWngERPA_4N/?taken-by=wolfsaliva