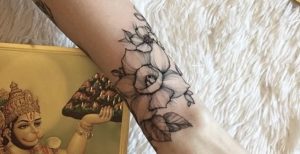 Spring is in the air! Somewhat, at least. I know it's still snowing in some places, but we're definitely gearing up for warmer weather one of these days. So while Mother Nature is still figuring out what she wants to do, why not peep some awesome spring-themed tattoos? Below are a bunch of pretty nifty springy pieces of art. If you have tattoos or are considering acquiring some, be sure to protect that art as well as your skin with specialised sunscreen. Let us know in the comments below which one you like best or if you have one of your own that fits with our theme!
1. Bees & Flowers
Bees thrive best in warm climates. They're constantly sidling up to flowers and plants in order to help the planet run smoothly. Getting a tattoo in honour of these little guys isn't just artsy, but also thoughtful. I'm sure the bees won't recognise it, but we sure do!
2. Flowers
https://www.instagram.com/p/BhY6VMjneR-
Okay, there is definitely going to be a strong presence of flowers in this article. And I am no botanist so I am not really sure what sort of flower has what name. But I can tell a pretty tattoo when I see one, and this is obviously one of them.
3. Bumblebee
Nope, not the Transformer… Just a cute lil bee!
4. VW Adventure
One of my personal favourite artists created this awesome beach scene. Quite groovy indeed!
5. Rose Bands
Putting dainty roses and pairing them with bold lines makes for striking art.
6. Vibrant Colour
https://www.instagram.com/p/BgZSlgLnRV_
Colour isn't everyone's cup of tea (I prefer only black ink, for instance) but it looks amazing in this shot! Don't be afraid to add your own spin and put the kind of art you want on your body.
7. Single Feather
Hand tattoos can be tricky sometimes. Too small, and they can be easily overlooked. Too big, and it could look tacky to some. But with this piece, it looks both elegant and daring.
8. Small Fox & Flowers
Like aforementioned, adding color to your tattoos can be a big win. And when you have colorful hair as well? That's definitely a win-win!
9.
It's a common misconception that butterflies can't see their own wings and take in their beauty. But butterflies' eyes rotate around a lot in order to gauge their environment. Like butterflies can take notice of their own gorgeousness, so can you! /cheese
10. Moth
Characterised as "butterflies of the night", moths are in possession of their own brand of beauty.
11. Ornate Peacock Feathers
Feathers woven amidst an ornate design, I'm falling in love with this awesome arm piece.
12. Popsicle
A minimalistic feat at its finest, the tiny ice pop serves as a reminder to take time to cool down
13. Leaves & Flowers
A delicate collection of flowers and the accompaniment of leaves make for a gorgeously artistic thigh piece.
Featured image by Anastasia Simpson