For some tattoo lovers, nothing is sexier on a man than a tattoo sleeve. What makes men with tattoo sleeves so irresistible? The answer is more complex than you may think!
Tattoos have always suggested a certain element of toughness. A large piece of body art is a big commitment, and it requires a willingness to withstand a fair amount of pain, which explains body art's enduring appeal with men in the military. These qualities are also hallmarks of professional athletes, and it's no coincidence that many athletes have a lot of ink. Countless fighters in the Ultimate Fighting Championship are heavily tattooed, but Chris Leben takes the cake with his colorful sleeve depicting a phoenix. Dennis Rodman is one of the best known basketball players to ever play in the NBA, and he is as famous for his heavily tattooed arms and "bad boy" image as he is for playing basketball.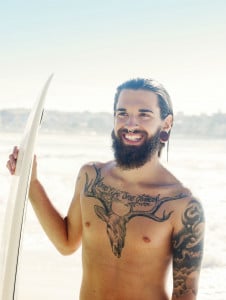 Speaking of bad boys, tattoo sleeves can also convey a little bit of danger. There is an undeniable "outlaw" image that comes with being a heavily tattooed man. Tattoo sleeves might scare your grandmother, but many people will find it incredibly sexy, which might explain how television personality Jesse James managed to steal Sandra Bullock's heart!
Tattoos also have an inherent artistic quality. Imagination and creativity are intrinsic parts of the decision to get a tattoo, and these traits are always attractive. Consider Usher and John Mayer, two of the biggest heartthrobs in music. Both men are known for their sexy voices and sultry songs, but they are also famously, heavily tattooed. Their tattoo sleeves bring up another point about why tattoo sleeves are sexy: Tattoos encourage you to stay in shape!
And finally, perhaps the sexiest kind of tattoo sleeve is when it's on the people you least expected. The police officer with his uniform sleeves rolled up to reveal extensive tattoo work will always be on the receiving end of stares from appreciative women. A buttoned-up man with a secret holds a timeless allure, and there is nothing sexier than the businessman in shirtsleeves revealing his ink.
Whether you're a tough guy, a bad boy, an artist or the rebel in the next cubicle, tattoo sleeves are a sure way to express yourself and get noticed. Be sure to see a professional tattoo artist for any work you want to get, and have fun!