You're stylish and sophisticated, and your body jewelry should reflect your elegant side. From beautiful navel rings to chic eyebrow jewelry, gold makes for a perfect all-occasion accent. Whether you're dressed to impress for a night out or headed to the office, gold cartilage rings and studs add a classy, dressed-up touch to your look.
Gold is a beautiful alternative to classic silver. Unique and eye-catching, gold adds shine to your look and casts a warm glow on your skin. Dotted with cubic zirconia or sans embellishment, a gorgeous gold cartilage stud is a subtle, classy attention-getter. Nickel-free 14-karat gold guarantees quality and sensitivity-free comfort for your helix piercing.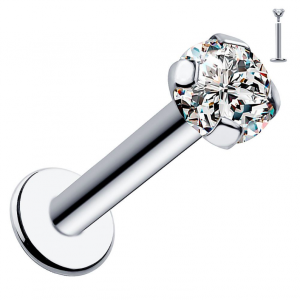 Unique settings highlight the beauty of a birthstone or cubic zirconia against shimmering gold. Beautifully cut stones in interesting shapes draw attention to your own fascinating features. Whether you opt for white or yellow, artfully crafted gold body jewelry manages to be simultaneously subtle and exotic.
When you're at a corporate event or an upscale evening out, achieving the perfect blend of low-key beauty and personal style is essential. You don't want to be another face in the crowd, but too much bling can cause you to get noticed for the wrong reasons. Tasteful gold body jewelry offers the perfect approach to making a great impression.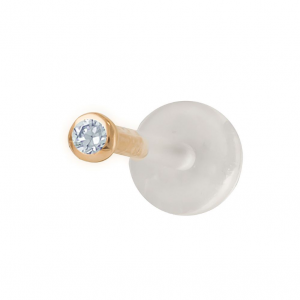 The allure of a gold eyebrow or helix piercing stud lies in its small size and simplicity. A beautiful bracelet gets attention only when you move your arm, but a small gold cartilage earring gently catches the light and draws all eyes to your face. Maybe that's why gold earrings have been worn by stylish beauties since at least as far back as Queen Cleopatra.
As ancient as gold's appeal is, it still looks fresh and modern today. The perfect suit, a great pair of heels and a knockout haircut are a great start to the day. Add a touch of white or yellow gold with a princess-cut stone, and you have a perfectly polished look.
If your day will end with a little clubbing and a change of clothes, why not throw a gold navel ring or sexy gold tongue stud into the mix? Our use of comfortable, non-irritating 14-karat nickel-free gold means you may forget you're wearing our body jewelry, even after a long day of work and play.