Your bathing suit wardrobe is not complete without the perfect belly ring to add sparkle, dazzle, and shine. Belly rings and bikinis go hand in hand to accentuate the beautiful body you worked so hard for, so be sure to build up your belly ring collection for a polished and finished look at the beach.
The best beach or poolside belly rings should be lightweight and allow maximum flexibility and freedom in the water. Make your fun fashion statements with a wide variety of belly ring options made of bioplastics, acrylic or titanium creations.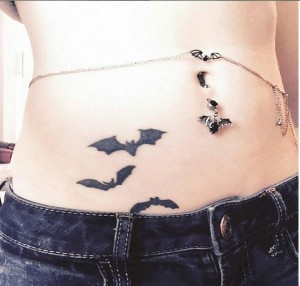 The Set Of 6 Bioplast UV Glitter Belly Ring Collection The bioplast streamline belly rings add a dash of color and a splash of chic with a large selection of colorful designs. Choose from a rainbow of colors with this hip and happening budget-friendly collection. Ideal with a skimpy bikini, the bioplast belly rings radiate a simplicity with their straight and graceful lines. Possessing an understated elegance, the Set of 6 Bioplast UV Glitter Belly Ring Collection is a favorite to accentuate a beach wardrobe with a hint of color that does not compete with your body or designer label bikinis. This stunning set of 6 glitter bioplast barbell belly rings comes with one each in turquoise, red, hot pink, lime green, basic black, and clear coat colors.
The FreshTrends.com Blue UV Reactive Layered Acrylic Belly Ring This popular non-dangle belly ring provides a comfortable fit all day and is your best choice when you want a swirling mixture of eye-popping color. The multi-colored blue acrylic swirl reflects the ambiance at the ocean or pool with a serene and captivating design that mimics the motion of a wave. Crafted in three luxurious shades of blue layered over a pure white base, the Fresh Trends Blue UV Reactive Layered Acrylic belly ring adds the perfect finishing touch to any color of swimsuit. 
Titanium belly rings are almost weightless and can take on some of the most artistic and interesting designs. The Super Spiral Twisters remains and surf favorite for their unique crafting and easy to wear designs. Super Spiral Twister belly ring designs provide a fabulous belly art look that will not interfere with your swim time or cause tan lines on your tummy. Select from twisters created in magenta, teal, surgical steel, gold-plated, rainbow, and green.
The FreshTrends.com Aqua Blue Dolphin Dangle Belly Ring This dangling dolphin belly ring captures the feel of azure seas with three brilliant aqua CZ configurations. Artistically incorporated with a dolphin and heart-shaped design,  the Fresh Trends Aqua Blue Dolphin dangle belly ring is sure to turn every head on the beach.