Diamonds are a timeless, valuable and beautiful stone, and they are often featured in the nicest jewelry imaginable. Many elegant rings, necklaces, and earrings feature diamonds; they are known as a classic part of accessories that show a person's style and grace. In modern times, diamonds are also featured in more alternative types of jewelry such as nose rings and other pieces of body jewelry. Diamond nose rings have become increasingly popular among women who want to look and feel stunning while showing off their piercing.
Piercings are not just for teenagers anymore; any woman can look classy and gorgeous with the right diamond nose ring. Many body jewelry stores are aimed at teenagers, and they only offer plastic, metal and cubic zirconia designs. These designs might be nice for some people, but they simply cannot compare to the style of high-end diamond nose rings. Diamonds may be a bit more expensive, but they are also more long lasting and suit more high-end tastes. Body jewelry can look amazing on anyone, but only if the right kind of jewelry is worn. Times have changed, and professional adults can commonly be seen sporting diamond nose rings with their everyday wear.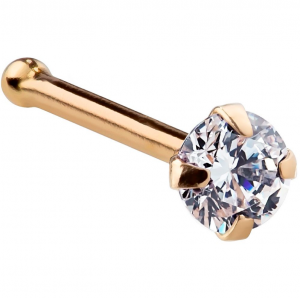 Nose rings, unlike some other facial piercings, are small and compact. Some people choose to wear bulky hoops and studs in their nose piercings, but diamond nose rings are a discreet yet beautiful way to show off a piercing. Some people only think that diamond nose rings come in one color, but this is far from the truth. These nose rings can be found in shimmery pale pink diamonds, glowing jet black stone and metal posts crafted of high quality gold and silver styles.
Purchasing diamond nose rings for oneself is a fun treat, but they also make excellent gifts. Jewelry is the perfect way to show someone you sincerely care about them and that you want them to look and feel their best. Diamond nose rings can easily be purchased online for competitive prices, and these great gifts come in a design to suit each and every person's style.