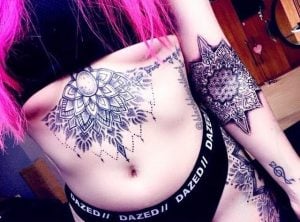 On Reddit, there's a thread lit with comments about whether or not it's worth it to get a sternum/under boob tattoo. Sternum (specifically, lower sternum) tattoos are one of the latest tattoo trends, when it comes to specific placement. While Rihanna was obviously ahead of the game as she got hers in September 2012, the rest of us are slowly catching up with this awesome art statement.
Although no two sternum tattoos are the same, there is one familiar strain in all of them. They tend to be symmetrical. And though there are definitely quite a few people who shall prove me wrong (I can definitely think of at least one friend who has a very asymmetrical under boob tattoo), I revel in the beautiful symmetry that is prevalent in many sternum/under boob tattoos.
But since the location is so near the rib cage and therefore a lot of bones, how badly does it hurt to be tattooed in that area? One of the commenters on the thread jumped in helpfully to solve this question, as she is a professional tattoo artist.
Female tattoo artist here! (8 years experience) I have my sternum/under boob tattooed, and I have tattooed many others there as well. While it is a pretty painful place to get tattooed, (depending on the artist and what it is you want) the pain can definitely vary.

It is certainly not an easy spot, but it is absolutely doable with a low pain tolerance and it helps to remember that the pain is only temporary. When it ends you are left with a really cool tattoo in a really (in my opinion) cool spot.

Talk to an artist in your area and see what they have to say about the subject matter and the time it would take. Depending on what it is, it could just be a quick few minutes, or something you may be better off splitting between sessions.

Hope this helps!
— Slothfuratu on Reddit
So there you have it! Depending on your pain tolerance—someone on the aforementioned Reddit thread mentioned that if you have an above or above-average pain tolerance, you're good to go—sternum tattoos could be a breeze. If you are craving some inspiration or simply want to see some awesome art, then scroll on!
1. Ornate Elegance
https://www.instagram.com/p/BGnAt2Ojp5O/
2. Life & Death
3. Triangular Style
4. Artistic Nature
5. Geometric Skills
6. Peek Show
7. Elegant Blackwork
8. Simplistic Lotus
9. Hidden Art
10. Like a Moth to the Flame
11. Dangling Crescent
https://www.instagram.com/p/BheD6WNnZkj
Featured image by Theresa