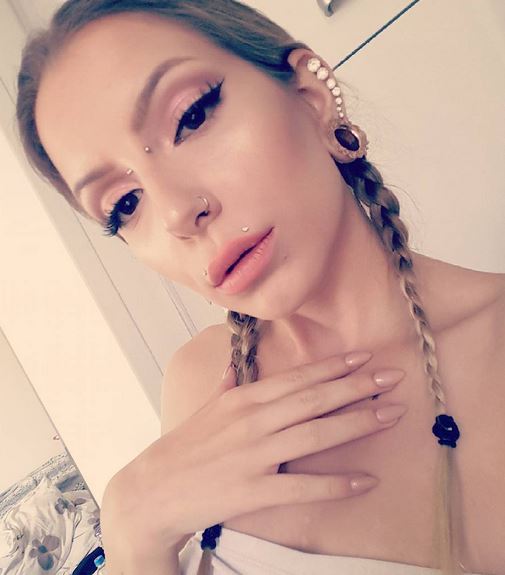 Ah yes, the ears – our body's built-in ornaments. There are so many valid purposes that these two pieces of audible flesh offer the human race, but all too often our dynamic duos spend way too many days feeling drab and dull.
Cue the Ear Party.
Yes, the Ear Party – a phenomenon that has been sweeping the globe for thousands of years. Cleopatra rocked some ear parties, a few of the biblical babes rocked some ear parties, Shakespeare rocked an ear party, and I'm positive that Da Vinci and Michelangelo, as well as all of their guy and gal pals, rocked a few Renaissance ear parties!
If your jaw is dropped, your head is cocked, and your eyes are squinting in efforts to try and figure out what an ear party actually entails – ponder no further. I have that answer for you, my friends.  
What is an Ear Party?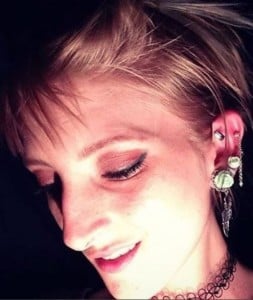 Simply stated – an ear party is exactly that – a party for your ears by adorning those fabulous lobes with plenty of piercings and spectacular jewelry.
I remember all too well when my piercing obsession began. Travel back with me to the year 1996 – I got my first job in high school and made some pretty sweet minimum wage cash. So, to ensure that money burned a hole right through my pockets every two weeks, I strategically planned to end up at the Mary Kay store, compliments of my local mall, on each payday. I pierced my sweet lobes fifteen times during my 10th grade year of high school. That's when my ear party began.
Flash forward to 1999 – my 18th birthday – my first year in college. The introduction to a local piercing studio in beautiful West Palm Beach, Florida – my ear party went from a nice little mixer to a full-fledged rager with the addition of some more industrial ear piercings.
I was hooked on the ear party.
Who's invited to the ear party?
Silly question. This party has no VIP list – if you dig ear piercings and you are down for showcasing as many pieces of jewelry in one (or both) lobes of yours – you're on the invite list! Men, women, gender neutral – whatever your association – if you have ears, then you can host an amazing ear party!
Are there any rules to hosting an ear party?
Now let me answer this question with a question – have you ever attended a good party that had rules? I'm assuming your answer was a resounding 'no', and that would be a correct answer. As with any amazing party – keep the rules to a minimum and the fun will be at a maximum!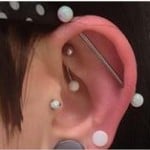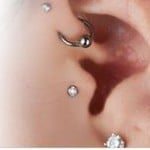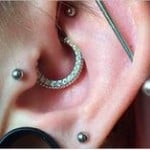 Although you can host an ear party with whatever jewelry fits your ear party vibe, there are definitely some recommendations to catapult you as the hostess/host with the mostess/most for your individual party!
Let's start with your main hole, which is probably the one at the bottom of your lustrous lobes that can bear the most weight and leave room for the most dangle. If you are rocking some plugs in those holes, then perhaps you can blow some minds with an eye-catching stone, bone, or fun design, like an ear cuff:
Feeling like you need more dangle at your party?  How about something fun and chic like this CZ & Dangle Silver Leaf earring?
Let's keep this party going, shall we?
For your next few holes, 'tis best to choose earrings that are fun and fabulous, yet leave enough room for your party to grow. My favorite guests to fill these spots at my ear parties are pieces like these:
Again, if you're a ragin' gaugin' party host/hostess, opt for pieces that are smaller and less daunting. If your ear party is hosting 10+ jewelry piece members, your lobes are gonna wear out quick. A good party maintains a strong endurance to last throughout its entirety.
What's a good party if guests don't keep showing up? Same with an ear party – let's bring some more jewelry guests to adorn our partying lobes! As you inch up towards the top of your ears, a party fave is to opt for pieces such as twister barbells, or even ear jackets: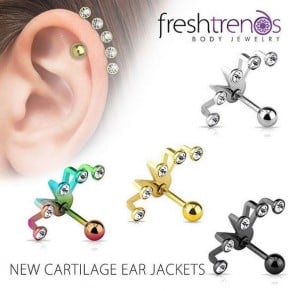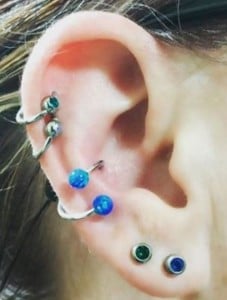 Ear parties aren't just for the outside perimeter of those fabulous lobes of yours! Check out some of these lobe bashes that require some amazing work from a professional expert at your local piercing studio: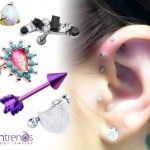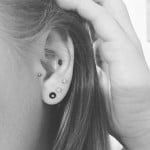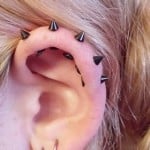 Can I still host an ear party without holes in my ears?
Of course you can! Parties are for everyone – no one should be left off an invite list! Maybe you haven't gotten the a-okay from your 'rents to get pierced, maybe needles scare the snot out of you, or maybe you want to take a test-drive before you begin a committed relationship with actual holes in your ears.
Either way, ear parties can be had by those that have no holes. Check out some of these fabulous non-piercing options to host your hole-less ear party:
There is no such thing as an ear party that is too big or too small! Add a handful of awesome pieces to your lobes for a nice, little get-together; jam those lobes with as many pieces as possible for an all-day or all-night rager! Whatever your party plans – just remember our Freshtrends rule of thumb:
Be FRESH. Be Bold. Be You.
Party On!