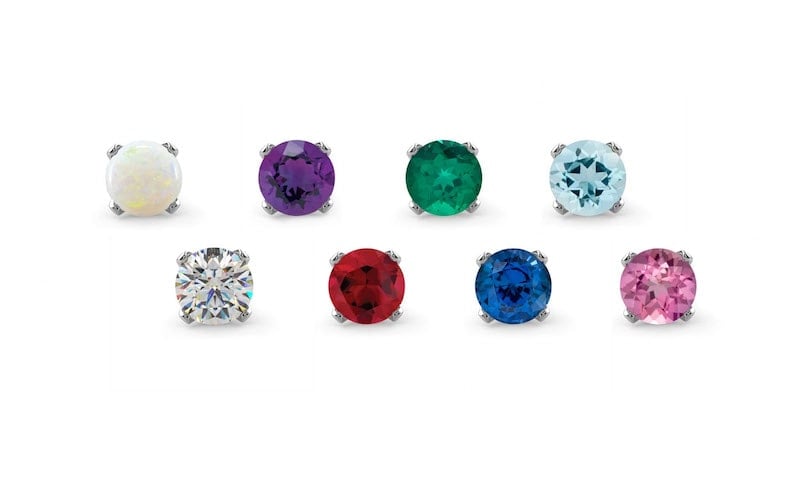 Although we love nose piercings, these days they're hardly unique. If you want your nose or septum piercing to stand out, you need to find stunning jewelry that makes it pop. The easiest way to do that? Invest in some stunning gemstones.

Luckily for you, we have quite the collection of beautiful, handmade gemstone nose rings that are sure to help your nostril piercing to shine. Check out these style ideas.
Add some flair with gemstone nose hoops
Simple hoops are all the rage when it comes to nose and septum piercings. And, why not? They offer a style that's a little bolder than dainty studs, but they're still sleek enough to remain understated.

Gemstones allow you to take that polished look one step further. Add a dazzling, genuine diamond to your seamless or CBR hoops or go full glitter with multiple cubic zirconia gemstones lining your nose ring.
You can't go wrong with diamond jewelry
Diamonds are known the world over for their unmatched sparkle. The diamonds in our nose rings are hand cut to perfection, promising a breathtaking shimmer in even the daintiest diamonds. 

The best part? All of our diamonds are cruelty-free, promising that they come from ethical sources.

If you feel as though your nostril piercing is a little drab, dress it up with some gorgeous diamonds.

Show off your birthstone
Birthstones are a fun and beautiful way to show off your birthday month. Good thing that we have a wide selection of genuine birthstone gemstones to choose from. You'll love the look of your birthstone shining from your nostril piercing.

(Psst… Looking for something special for your favorite pierced person? A birthstone nose ring could be the perfect gift.)
Opt for opals
Opals may not be the first gemstone that you think of when you picture nostril rings, but maybe they should be. Boasting a gorgeous swirl of color beneath a pearly white tone, opals are simultaneously complex and understated.

Across cultures, opals often symbolize harmony, purity, and balance. They project a feeling of calm assuredness which lends to its power. You'll love wearing opals in your nostril piercing.
Choose cubic zirconia
A well made cubic zirconia gemstone is nearly identical to a diamond when viewed with the naked eye. This makes it the perfect substitute if you don't have the budget for a diamond.

You'll be proud to wear the clear and beautiful cubic zirconia gemstones found in our nose jewelry. Whether you want something sleek and modern, dainty and beautiful, or loud and proud, we have the collection for you.

Gemstones are perhaps the best way to make your nostril piercing truly stand out. We have tons of options available whether you're looking to invest or on a budget. What are you waiting for? Get shopping today.