A lot of body jewelry shops get this reputation of sleaze and cheese – everything is cheap and imported, nothing holds up for long term wear, and amidst the smell of patchouli oil and incense, you have to wonder just how many hands have touched the jewelry you're looking at in those cases.
I know, I'm a snob, but seriously, most mall boutiques don't stock the kind of quality a lot of people look for in body jewelry, and for good reason. High end, pure metals can be hard to come by, and are almost always of questionable quality and imported from overseas. Most body jewelry shops don't even carry anything like gold or silver jewelry, let alone diamonds.
Diamond body jewelry might feel like overkill, but in all reality, if you have piercings, this is no different than you or someone else treating you to a tennis bracelet or an engagement ring. Different strokes for different folks, and some people just care way more about a belly button ring than they ever will a diamond pendant.
Our Handcrafted Diamond Pave Gold Body Jewelry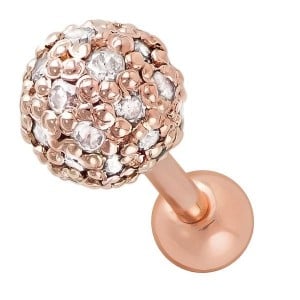 This holiday season, it's time to go big or go home, and invest in jewelry that has been hand-crafted, right here in the United States. At the FreshTrends facility in Florida, there is a stone-setter carefully placing our signature Kiwi Diamonds by hand in our stunning pave diamond line.
These gorgeous pieces are spendy, but worth every penny – made from the highest quality, purest gold, and available in rose, yellow, and white 14K gold, these pieces are every bit as high-end as the engagement rings the other girls are swooning over.
They're not just for women either – these designs are very much unisex, and while utterly dazzling, look great on men and women alike. We have a diamond pave piece for just about any piercing you might have, including:
I mean good lord man, look at this stuff. This jewelry is fit for royalty.
14K Gold and Opal Body Jewelry
I love opals so much. These iridescent stones have been rising into popularity as of late (much to my joy), and so we now have more stunning opal body jewelry than ever before – and in our pure 14K gold no less. There are tons of pieces to choose from, but I'm particularly in love with the white opals set in yellow gold – something about that color combination makes me think of Greek goddesses or something.
Since these pieces don't have our (heart-stoppingly gorgeous)  diamonds in them, they're a lot more affordable than the pave line. If opals are yours (or your significant other's) thing, this makes one heck of a velvet box gift for the holiday season.
I think a belly button ring is one of the more personal and sensual gifts a person can give – makes me want to get mine done just so I can unwrap one of these beauties in a few weeks.
My favorite by far is this absolutely stunning white gold belly button ring with a cushion cut London Blue Topaz stone, encircled by none other than our Kiwi Diamonds. It's 14K gold, and has this incredible antiqued look that you really don't see with body jewelry anymore.
Seriously, I just swoon like a Home Shopping Network host every time I look at this thing, but can you blame me? It reminds me so much of that necklace from Titanic, "The Heart of the Ocean" – only sexier.
Shop, swoon, or add it to your Christmas list here.
I could bore you for hours with notes about our selection, but let's get to the good stuff, shall we? The sale items. Our Cyber Week sales are still underway, so snag your gifts and treats while they last!
Gold and diamond jewelry is no exception to this sale – you'll find hundreds of gold jewelry pieces marked way down on sale, so if you've been holding out for a deal, well here it is my friends.
You can shop the whole Cyber Week sale on gold body jewelry here.
Under $150
There's a lot of great jewelry that's been deeply discounted for the week at a variety of price points, but if you're holding yourself to a spending cap, there's still plenty to see. All of these pieces are marked at $150 or less right now – just click the photos to check 'em out. Shop all of our fine 14k gold body jewelry styles here.