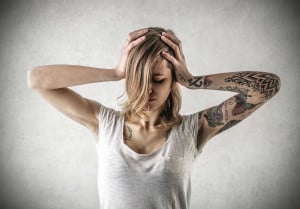 You know you've seen portrait tats. Parents love to get their kids' faces, some people love honoring iconic celebrities, and some even immortalize their pets on their skin. Kat Von D so famously had a childhood portrait of now-ex-fiance, Jesse James. Portrait tattoos are the ultimate in love and respect for someone.
If you want one, make sure you really want it permanently. Pick a good spot for it, and above all pick a great tattoo artist. There are more than enough god-awful portrait tattoos, and if you love the subject enough, you want it to be exceptionally done. Bad portrait tats are only good for a laugh!
While there are many tattoo artists out there, few are capable of truly being able to get this look right. It takes more than skill in the craft, it takes true artistic vision, so you want the very best in artistic ability plus technical capability.
The best options for tattoo aftercare: H2Ocean and Tattoo Goo