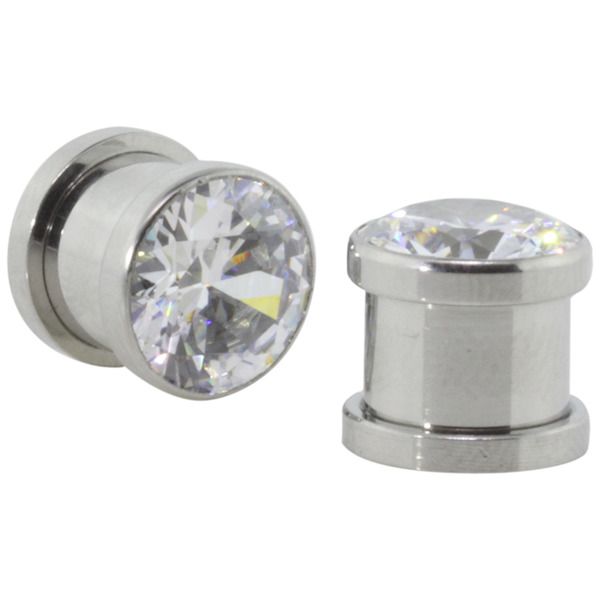 We have been carrying these plugs for a little while now, but I am finally getting the chance to talk about them.
I stretched up to an 8 gauge when we got in some organics because I loved the look of these plugs. But these CZ plugs are getting me to stretch up to a 6 gauge.
I have been seeing this look pop up more and more in pop culture. Most of the people that are wearing them though are using traditional earrings with an oversized CZ on the end. Because the weight of the stone is heavier then the barbell this ends up making the piercing hang down awkwardly. I know some people with larger gauged earrings love the weight and heft to a large plug but I personally can't stand anything touching my neck or weighing down on my ear. That's what I love about these plugs. Because they are hollow they are surprisingly light in the ear.
Even the smaller gauges have a CZ that is about a millimeter thicker than the plug itself. The cut and design of the CZ is multi faceted and reflects like amazingly. These are perfect to wear to a club or even a job interview
The lights in a club are going to really make them stand out. But at an interview, or work, they look just like large earrings, most companies aren't bothered if you just have a large chunk of CZ in your ear! What I love about these plugs is the screw-on back. Anyone that wears plugs knows that o-rings and double flared plugs are much easier to lose then screw-on plugs. The screw-on back to these plugs let you wear them every day, go to school, work, and never have that horrible realization you lost your plug somewhere! These are easily one of my most favorite plugs we have currently. We are always interested in what you think though so let me know what you think about them!