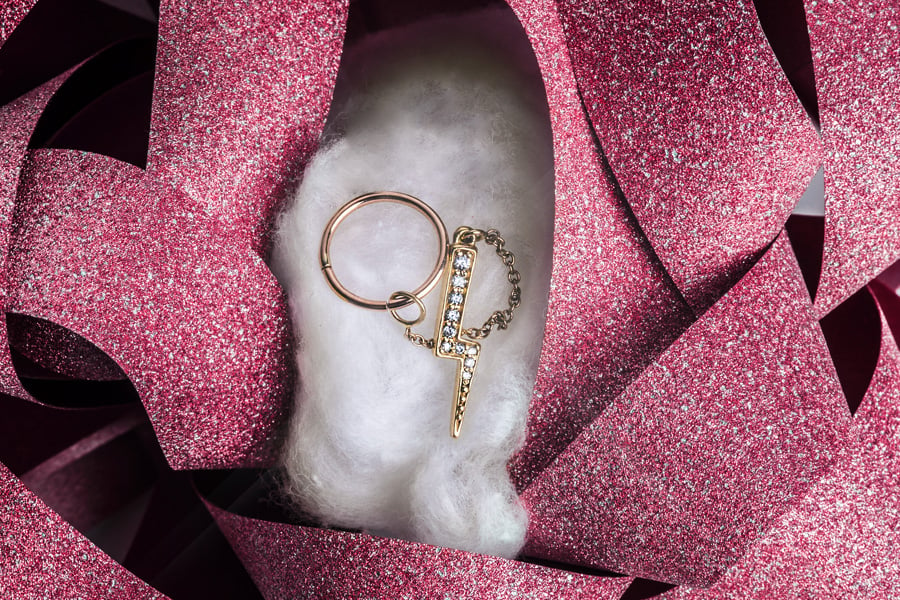 Note on holiday shopping: All of our jewelry is exclusively made-to-order, which means customized quality that you can see and feel! It also means that you need to order your holiday gifts sooner rather than later to get them on time. As you're shopping, check the production time under the product details to get an idea of how long each piece takes to make.
Whether you're looking to treat yourself or to find that perfect gift for your pierced loved one this holiday season, now is the time to start shopping for your gift wish list. We know that you're busy, so we've cultivated some of our favorite pieces depending on what you or your loved one needs.

Let's get your holiday shopping done with. Here are the body jewelry pieces that will win the holidays this year.
Stick with the classics
Classics remain classic for a reason: they look great no matter what. Typically understated but still gorgeous, these types of body jewelry pieces can adorn many different piercing types, can usually be worn with any outfit and for any occasion, and are great overall staple pieces.

When shopping for a staple piece, you want to find something that lasts. That's why 14k gold or platinum is the way to go. Solid 14k gold is more durable than 18k gold, which is why it's the gold material of choice for body jewelry. Platinum, while a bit more expensive, is also one of the strongest jewelry materials, which is why more and more people opt for it when it comes to long-term wear jewelry items, like engagement rings. This also makes them ideal for body jewelry.

Here are some classic pieces that our customers can't get enough of.
Find something colorful
Just because a body jewelry piece is high end doesn't mean that it can't be colorful, too. For those who have grown beyond cheap jewelry options but who still want the bright colors and fun charms, check out our wide variety of colorful gemstone jewelry.

We have both genuine gemstones, like amethysts, rubies, and emeralds, or you can go faux with colorful gemstones that look nearly natural but are a little easier on the wallet.

Gemstones also carry significant cultural and symbolic meaning, and many believe in the healing and spiritual power of these gems. This adds a little something extra to your gift. If you choose a genuine gemstone, look into its meanings and supposed powers, and choose the meaning that your special person will most appreciate.
You can't go wrong with diamonds
Since the 1940s, diamonds have been the go-to gemstone when it comes to expressing love. Because of this, partners all over the western world use diamonds as their go-to when they want to show how much they care. Why stick with tennis bracelets and necklaces when you could opt for a unique diamond piece of body jewelry instead?

If your partner loves bold, stunning diamond jewelry, or if they prefer beautifully subtle gemstones, we've got a wide selection of diamond body jewelry to suit any taste and any piercing. You can even get diamond nipple jewelry to add a little extra class to your sexy look. Or, go for the classic diamond earrings that your partner will adore wearing every single day.
Grab some accessories
We get it; buying quality jewelry can sometimes be expensive, and if you have a big holiday shopping list, a nice piece of body jewelry might break your budget. Instead, shop for a body jewelry accessory to help bring an existing favorite jewelry piece to the next level.

A body jewelry chain can be added to any stud, straight barbell, or to connect two pieces of body jewelry in order to create a variety of looks. A simple gold chain can do wonders to transform your body jewelry collection.

Or, choose a gold, pearl, or opal ball end in order to reinvigorate any piece of ball end jewelry, like dermal anchors, straight, curved, or circular barbells, and other threaded jewelry.
Combine edginess and quality
Some of us love to have a professional and classy look, but we also like to hang on to our edgy side. Luckily, with our jewelry options, you can do both.

Opt for gemstones like black diamonds or black cubic zirconia, the amazingly alluring black peacock pearl, or cool charm designs like spiders, snakes, and spikes while still enjoying the quality of handmade jewelry with only the highest standard of materials.
Embrace spirituality
If you or your loved one has a spiritual side, then we have a few body jewelry options that will help to showcase that.

Our dainty yet stunning charms feature designs like paved diamonds, single gemstones, or sleek and simple polished 14k gold. They also come in a variety of sizes so that you can pick the perfect piece for your piercing, whether it's located in your lip or your tragus.
Make your own design
You don't just have to stick with what's available. Did you know that you can work with our jewelers to make your very own body jewelry piece? It's as easy as filling out a form and asking.

We've been able to fulfill orders as simple as a custom size request to helping create a brand new piece from scratch. Don't worry if you've never done this before. We'll be able to take your design idea and guide you toward a feasible way to make it a reality.

Nothing says that you care more than a custom jewelry piece. Talk to us today about making that happen. But hurry; you should make your requests soon in order to ensure that your custom piece will be ready for the holiday season.

Holiday shopping is hard, but it doesn't have to be. At FreshTrends, you are sure to find a quality piece for yourself or your loved one that you won't discover anywhere else. And, you'll be able to boast that each jewelry piece is handmade to order, offering an exclusivity that's nearly impossible to find in the body jewelry world. If you want a showstopping gift this year, then you've already found the source. All that's left is to find the perfect piece.