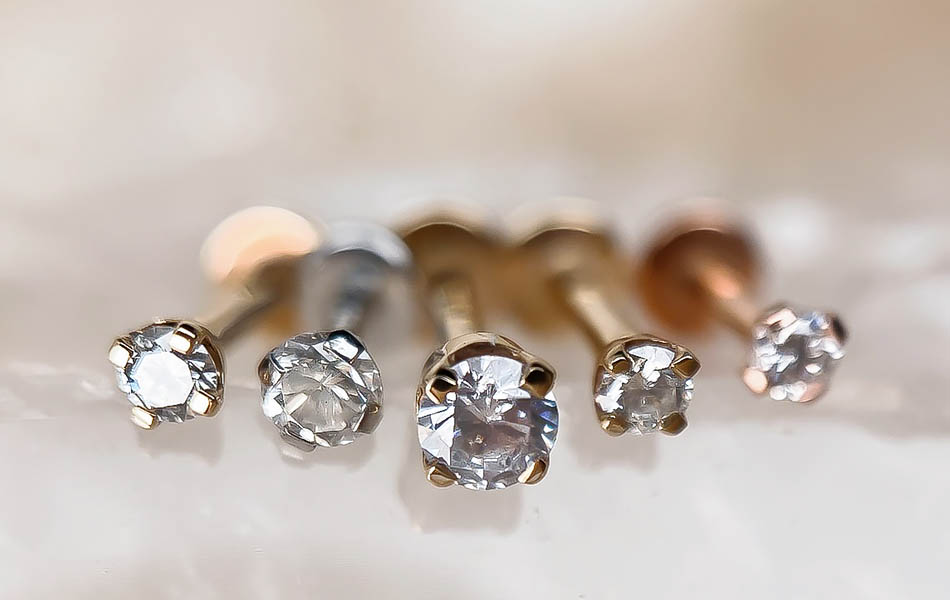 Diamond jewelry is a time-honored Valentine's Day present, and it's no wonder why; the clear gemstone can match any outfit, and as one of the strongest substances on Earth, it will stand the test of time, just like your love.
While necklaces, bracelets, and other jewelry staples make fine gifts, you want to choose a present that goes beyond convention. What better way to show your significant other that you love their individual style than with some gorgeous diamond body jewelry?
Even if you know your significant other well, it can sometimes be difficult to choose the perfect piece for them. Style can be a fickle thing, and you want to find something that they can cherish for years to come.
Lucky for you, we've come up with a guide to help you determine the perfect diamond body jewelry for your loved one. Here are some gift ideas based on your partner's style preferences.
Discreet and dainty
Although most people can't say no to a diamond, some prefer subtle styles over flashier pieces. If your partner prefers smaller jewelry pieces or tends to wear muted colors or clothing that doesn't stand out, then you're probably safe with a dainty diamond in a sleek jewelry piece.
When shopping for diamond pieces, especially in nose jewelry, keep in mind that 1.5mm is quite tiny. For those who crave only a little sparkle, we mostly recommend 2mm or 2.5mm diamonds. However, if your significant other prefers very discreet jewelry, then the 1.5mm diamond could be perfect.
Also keep in mind that discreet doesn't always mean that you have to stick with classic cuts and jewelry styles. Try out a tiny charm lined with diamonds for a cute, classy piece that will subtly sparkle in your significant other's piercing.
Bold and intricate
When it comes to diamonds, some look for the flashiest they can find. After all, is there anything more stunning than a large diamond that's expertly cut to achieve the ultimate sparkle? We think not.

If your significant other prefers bold, contemporary looks, find some diamond body jewelry that takes on new approaches to jewelry. They might love an intricate diamond clicker ring in their septum piercing or a captive bead ring with diamond-paved balls.

For those who prefer classic looks with a bold shimmer, choose large, round cut diamonds in a prong setting. They'll love wearing the timeless look in their modern piercing.

Contemporary looks
Classic is great, but many people prefer to sport only the latest fashions and trends. If this is your significant other, then we have plenty of body jewelry options for you to choose from.

A diamond in a bezel setting offers the gorgeous sparkle of a diamond in a sleek and sophisticated setting. As a bonus, because there are no prongs for hair or clothing to catch on, bezel setting jewelry often offers less of a snag risk.

You can also choose cool and contemporary charm designs for the loved one in your life who enjoys quirky and modern patterns.

Or, choose unique diamond cuts, like a square or teardrop, that will help the diamond stand out from the standard round cut.

For the edgy rebel
The clear color of diamonds allows diamond jewelry to go with any outfit, but not everyone craves that neutral look. For the edgier ones out there, go with a gorgeous black diamond.

With a black diamond, you'll enjoy the same luminous sparkle, but the gemstone will have a deep black tone, perfect for those who enjoy darker colors in their wardrobe. They're also perfect for those who like to wear styles that are a little off the beaten path.

The colorful dresser
Whether your partner loves floral, enjoys wearing neon, or simply refuses to wear an outfit that doesn't have at least a little color, they probably prefer something a little brighter than a clear diamond.

Luckily, there are some diamonds that do boast color, or you can pair a diamond with a genuine gemstone for a bright, colorful, and stunning piece of body jewelry.

Cute designs
Is your partner one who is always drawn to adorable charms or fun shirt designs? Or maybe there's a specific shape or object that they feel drawn to, like the moon or sun. Whatever the case, you can get an adorable charm body jewelry piece featuring a gorgeous diamond in a piece of jewelry that shows that you were thinking about them when you picked it out.

From flowers to stars, we have a number of charm jewelry options that you can choose from, each featuring an expertly cut diamond in a handmade piece of body jewelry.

Unpierced options
Perhaps your significant other isn't pierced, or they have plenty of body jewelry already. In that case, they can still enjoy beautiful, handmade diamond jewelry.

The best part of buying jewelry with FreshTrends is that each jewelry piece is made by hand when you order it; when you give the gift of body jewelry to your significant other this Valentine's Day, you can boast that the jewelry was made just for them. And, since we use only the highest quality materials, you know that you're giving your partner the best that they deserve.