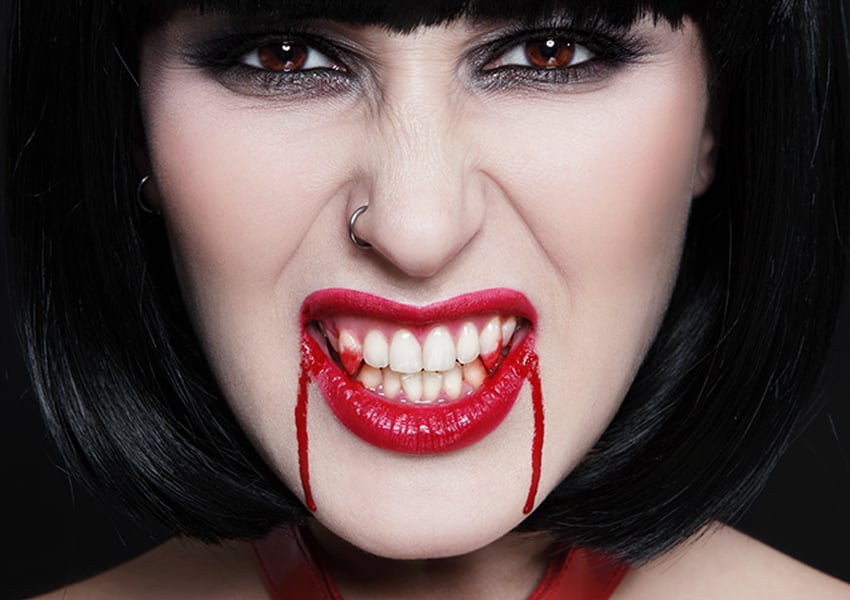 October is officially here, and Halloween is on its way! Any costume aficionado knows that attention to detail is essential, and finding the perfect body jewelry to go with your costume is part of that. We've compiled a bunch of costume ideas paired with our fantastic body jewelry.
Classic Superhero
You can't go wrong with a superhero costume, and let's face it, super heroes are super in. Whether you want to represent your favorite superhero, or you want a costume that shows your inner hero, we've got the jewelry to go with your costume, whether you want to go all-out in an authentic suit or simply put on a t-shirt and mask and call it good.
Batman/woman
Who would win in a fight? Batman or Superman? For fans of the billionaire who fights crime by his ingenuity alone, a Batman costume is an excellent way to show whose side you're on.
Show a little skin and don the Batman Belly Ring. If you opt for the smaller mask rather than the entire Batman headgear, try a pair of Batman Plugs or the Labret / Tragus Stud. For those who are going all-out, you can still show off your body piercings while rocking the full head gear with the Bat Signal Tongue Ring. Be sure to check out the rest of our Batman collection as well.
Superman/woman
Sure, Batman has a bunch of bucks, but Superman doesn't have to rely on his gadgets to save the world. If you're on the side of Krypton, show it with a Superman costume.
We've got bunches of Superman gear to bring your costume to the next level. Dangle a sleek black and red Superman Earring from your cartilage piercing. Add a bit of feminine flair to your costume with the pink Superman Belly Ring. The Superman Industrial Barbell looks hot in an industrial piercing, or go classic with the Superman Shield Plugs Pair. Don't miss out on our other Superman options as well.
Catwoman
No need to leave the world-saving to the men. Catwoman keeps crime off the streets while looking super hot.
The Cat Ears Cartilage Earring looks adorable in a daith piercing, plus it'll look great all year round. What is a superhero without their mask? The Cat Mask Industrial Barbell ensures that you will never be without yours. For those who sport plugs, you can rock a pair of Kitty Cat Plug Hoops.
Wonder Woman
An Amazonian warrior (and inspired by early feminism), Wonder Woman showed us that women are just as capable of men as kicking ass in a time when society relegated women to the kitchen. Show your inner (and outer) strength with a Wonder Woman costume.
Add to the stars on your Wonder Woman costume with the Red Star Tongue Ring or the Star Bright Cartilage Ear Cuff. For those of you with belly piercings, you can show off your style with the Wonder Woman Gold-Tone Dangle Belly Ring. If retro is more your thing, you can check out this Wonder Woman belly ring as well.
Spiderman/woman
Sticking to walls has never been so fun! If you've ever wished that you had been bitten by a radioactive spider as a teen, then you can live out that fantasy with a Spiderman costume.
For a midriff-baring Spiderman/woman, show your Spidey senses with the Spiderman Dangle Belly Button Ring. Spiderman may always wear his mask in public, but it's doubtful you'll want to wear yours all night long. The Spiderman Plugs Pair will ensure that your still Spidey from head-to-toe when your mask inevitably becomes to hot. It's also available in black, if Venom is more your scene. If you go all-out on your costume, then your jewelry should be as quality as your attire. The Spiderweb 14K Gold Cartilage Earring offers a classy flare to your ensemble and will still be adorable all year long. There's more Superman body jewelry for you to check out as well.
Mythological Characters
To stand out from the crowd without having to worry about a complicated costume, mythological characters often make a great choice. Since the Romans and the Greeks loved their togas, often all you need is a sheet and some props to show who you're supposed to be. While all of your friends are dressed as the latest memes and pop culture references, stand out with some of these legends.
Atlas
Condemned by Zeus to hold the sky on his shoulders, Atlas is probably one of the more unfortunate of the punished Titans after their fall from grace. An Atlas costume gives you the opportunity to show your strength while rocking a unique look this Halloween. Bonus: the costume is super easy to put together. Put on shorts, grab a globe, and you're good to go!
The Planet Earth Cartilage Earring is the perfect way to represent the mass that Atlas must carry. And what better way to symbolize his servitude than with the Chain Link Clip-On Septum ring? It's great for those who want to rock the septum-pierced look for one night only.
Medusa
Medusa is one badass lady. Described as a winged and wicked monster, she turns anyone who dares look upon her into stone. Let your badass shine by donning a Medusa costume.
The Serpent Eyebrow Ring Barbell will make you look like you're one with your snakes at it slithers through your eyebrow piercing. Or, the Sexy Snake Belly Button Navel Ring has your snakes sliding through your belly piercing. If any mythological creature were to have an amazing nipple piercing, it would be Medusa. The Slithering Snake Nipple Ring Shield allows you to fully immerse yourself into her character. For your septum piercing, we also have the Snake Septum Ring Clicker. Don't stop here! We have tons of snake options to make your costume perfect.
Poseidon
As the god of the sea, Poseidon has power over fish and sea-borne storms alike. Although he is technically a male character, this costume is great for both men and women and, as you can see below, as a couples' costume. Just grab a swimsuit top, some colorful fabric, seashells, and a trident, and you're ready to rule to sea.
In addition to the seaworthy wear, we have plenty of ocean-themed jewelry to choose from. The Seahorse Spike Hanger Plug Pair offers an abstract aesthetic for your costume. To remind yourself of the great beasts that Poseidon rules, the Tentacle Wrapped Industrial Barbell leaves no doubt to your strength. What better time to rock a nipple bar than during Halloween? The Triton Nipple Ring Barbell goes perfectly with the Poseidon attire. Finally, the Octopus Dangle Belly Ring adds a little sparkle to your costume.
Miscellaneous
Steampunk
The steampunk theme makes a great costume because the only limit is your imagination. Combining sci-fi with the fashion and steam technology of the turn of the century, you can be anything from a pirate on a flying steampunk ship to a steampunk sheriff in a low-down Western town. Just head to your local thrift store to see what you find, and have fun with it!
For you plugged folks, the Steampunk Gear Tunnel Plug Pair will bring your costume to the next level. The Steampunk Heart Dangle Belly Ring will look adorable peeking out from your layers of steampunk attire. Wrapped around your ear, the Steampunk Cartilage Ear Cuff will almost make it seem as though you yourself are part machine. Even if the nipple ring may be hidden, you'll know that you've gone all in with the Robotic Heart Nipple Ring Barbell. Don't miss our other steampunk  plugs jewelry.
Skeletons
Sometimes, you have to stick with the classics. A skeleton costume can go into great detail or be as simple as a skeleton suit, and it's perfect alone or as a group costume. All in all, you can't go wrong when you go skeletal.
If you opt for a sexier skeleton look, then you might want to check out the Crystal Ball Skeleton Hand Belly Ring. The Skeleton Ring Cartilage Stud makes it look as though a skeleton is reaching around to grab your ear, adding spook to your costume. It also looks adorable in an eyebrow piercing. Halloween is a day of pretend, so what better time to pretend your ears are gauged? The Three Skull Cheater Plug features three realistic-looking skulls. Go simple with the Cast Bone Septum Clicker. If these don't fit any of your piercings, we have more to choose from.
Choosing your Halloween costume can be the most stressful part of the holiday. If you need more inspiration, be sure to look at our other Halloween-themed body jewelry as well.